Milk an `Amazing Opportunity' as Corn Rises: Chart of the Day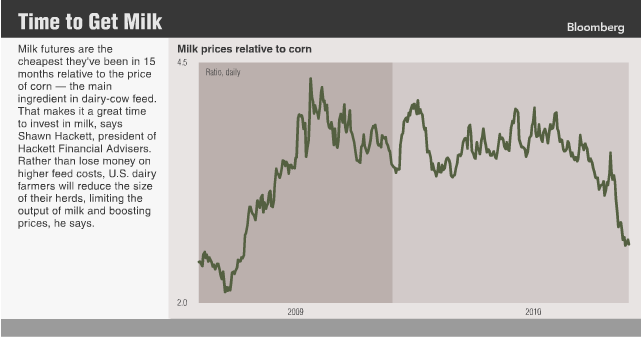 By Tony C. Dreibus - Oct 24, 2010 7:00 PM ET

Milk futures are an "amazing buying opportunity" because they are the cheapest in 15 months relative to the price of corn, the main ingredient used in feed for dairy cows, according to Hackett Financial Advisers Inc.
The CHART OF THE DAY shows the ratio of milk to corn narrowed on Oct. 20 to 2.6, the lowest since June 2009. Corn rose 46 percent in the past three months after the U.S. government said domestic output would decline more than analysts forecast. Milk fell 1.3 percent.
Milk will advance because U.S. dairy farmers will cull herds, limiting output, rather than lose money on higher feed costs, said Shawn Hackett, president of Hackett Financial Advisers in Boynton Beach, Florida. Soybean oil rose 32 percent since he predicted a rally in the commodity June 1.
"This is a market that has been left for road kill and yet should be one of the greatest bullish price beneficiaries of the current bull market in grains," Hackett said. "Investors will make a lot more money, with a lot less risk, owning milk at this time than owning the grain markets."
Using the spot price, reflecting the contract closest to expiry, the ratio of milk to corn is at its smallest in 14 years, Hackett said. The 15-month calculation uses the most- active contract by open interest, or contracts outstanding.
U.S. milk production dropped 5.6 percent in the past two months after reaching 17 billion pounds (7.71 million metric tons) in May, the highest since at least 2001, Department of Agriculture data show. U.S. dairy farmers planned to cull herds to bolster milk prices, the National Milk Producers Federation said May 27. Output has been rising every month since February, based on the seasonal year-over-year comparison.