Commodity Bull May Reignite in 2014

By Shawn Hackett | September 11, 2013
The All Ag index which is a measure of the equal weighted spot prices of all grains, softs and livestock has been in an extended consolidation wedge pattern since the big bull market of 2006-2008. The pattern maximum completion date is June 2014. The ROC indicator is flashing a major buy signal and the MACD indicator is within a whisker of triggering a major buy signal (see chart below).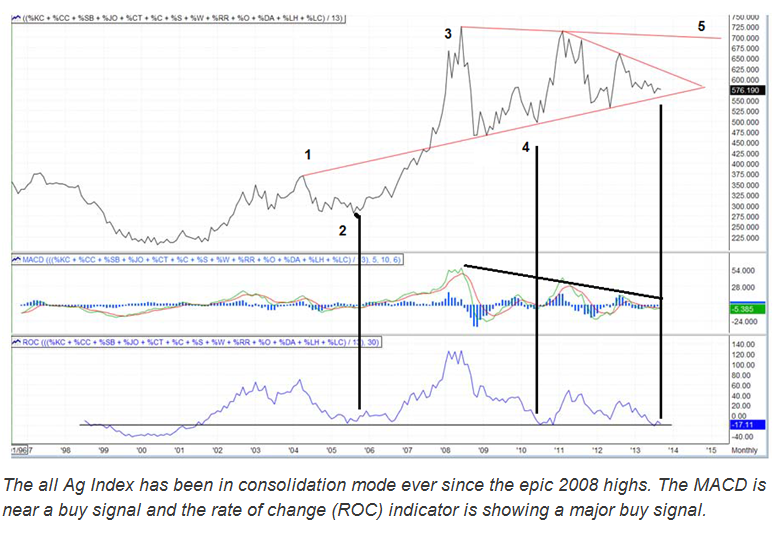 This would suggest a large up move for the Ag space in 2014. This would be very consistent with the typical 5 wave pattern for most broad market moves that ends with a parabolic rise to complete a final bull market top. This is also consistent with the completion of the 60-year commodity cycle which ends in 2014 as well as the 40-year dollar devaluation cycle that completes in 2014.
Final spike highs in agricultural commodities have occurred with the completion of these cycles when combined with the completion of the war/unrest cycle which is also slated to complete in 2014.
The escalation of wars has been a very reliable commodity accelerating indicator. During times of war most countries involved need to print money in order to fund the war which by default enhances inflationary expectations. Also during war time, trade tends to get disrupted and a "Hoarding" mentality tends to set in that makes available supplies unavailable for export. There is no greater asset to hoard during such times than critical food commodities represented by primarily rice and wheat. These critical food items become the strategic reserves that starving countries cannot do without.
The "War on Terror" in the Middle East which began this commodity bull market cycle in 2002 may have further to go before peaking in intensity. When the war on terror subsides so will the commodity bull market. I hope this time it is different but already it appears the war rhetoric is gearing up for an altercation for 2014 in Syria. The last time that the dollar devaluation cycle, war cycle and 60 year cycle have all been aligned was 1890.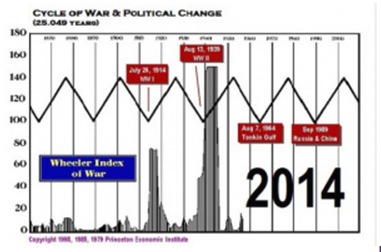 As one can see on the chart below, the commodity bull market that began in 1875 was already over a decade old by the time all these cycles came together in 1890. As one can see, the bull market in commodities had much further to go and only ended when World War I reached its maximum devastation.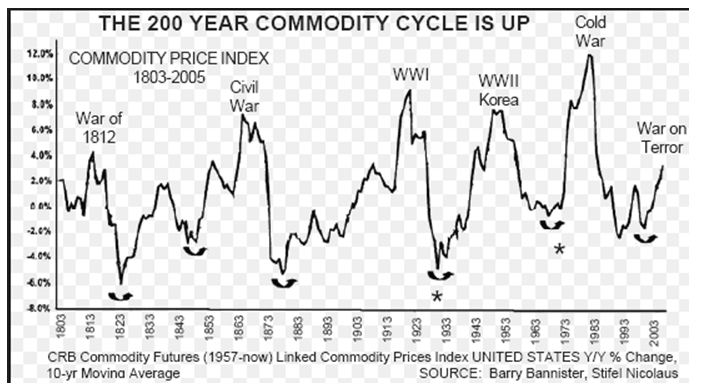 So today we see a bull market in commodities that has also been over a decade old with a similar set of culminating cycles that could lead to a much further and more intense commodity bull market than anyone is expecting. If this scenario is to play out again based on historical precedent the fourth quarter of this year should be the bullish turning point.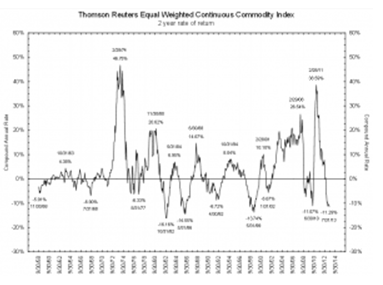 The two-year rate of return chart above is sitting at the long term buy signal level that has preceded every bull move since 1982 in the CCI. Everything is pointing for a large upward move in overall commodities in 2014 before potentially putting a more enduring top. As always a catalyst is needed to set this off and not all Ag commodities will be big performers. I will be watching closely for the signs that this repeatable precedent is occurring again. I think the Softs will be the place to be should this bull move get going with rice and wheat out performing in the grains complex.
Click on link for Hackett's entire report. HackettMoneyFlowReport Agriculture Prices-Big Picture