Rice: Perfect Storm For A Bull Market

SHAWN HACKETT
Published 9/1/2009

As a result of strong U.S. export demand last year due to
poor global rice crops, rice supplies are currently at their tightest levels since 1973. That, along with the continued unfavorable U.S. planting/growing weather, could mean drastically reduced numbers for the total planted acreage for rice in future USDA reports, which means that yields and total production numbers likely will be further compromised. And in India, a very weak monsoon season in the country's main rice growing regions could drastically affect their expected production potential, having a profound impact on global rice supplies and on the value of rice as a commodity. If this global production contraction trend continues and new U.S. export demand emerges, the steadily improving money flow measures, technicals and very bullish fundamental trends of rice could become realized and shoot rice prices through the roof.
But despite the sure signs that next year's U.S. rice supplies will reach new record lows, many investors continue to be wary of rice and are not as quick to jump on the rice bandwagon. Generally, these investors balk at investing in rice for a few reasons. First, information is harder to come by, therefore making it harder to understand. Also, trading volumes of rice are lower than more widely followed commodities, like corn and soybeans. This creates anxiety among investors over a lack of liquidity, a fear if they want to sell in a hurry.
However, rice can prove to be a lucrative investment for the prepared investor who is willing to do some homework. By having a long-term view, these investors will find themselves ahead of the pack and in a prime position for success.
The rice market has established a very impressive six month wedge consolidation formation, with a dramatic uptick in price since mid-March, additional evidence that a major bull market is on its way. Typically, such patterns break out to the upside in explosive fashion, so to confirm a technical break out of this pattern, a close above $13.25 per 100 lbs. would be required. As "Breaking out," shows, this has already occurred.
The $13.25 overhead resistance area has withstood every rally attempt over the last six months. A break out would clearly signal that selling at this level has been exhausted, and a new higher level of price will need to be sought. After this happens, sellers will emerge in greater quantities and set new price equilibrium. These overhead resistance levels tend to lead to explosive upsides as sellers vanish and buyers become more aggressive.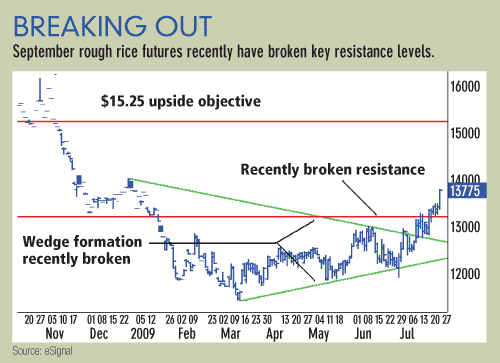 The recent explosion in prices indicates that a runaway advance is already underway. The likely projection of such a move would be $15.25. That was the last major support taken out in November 2008, before prices plunged to new lows. What was once strong support will likely become strong overhead resistance.
The current crop ratings projected for the new crop 2010 rice are well below last year's levels, with 55% of the crop rated fair to very poor. In fact, the state of Arkansas (a key rice producer) recently saw the good to excellent ratings decline from 50% to 46%, a large drop in ratings.
Given this unfavorable planting weather in the United States, it's very likely that total planted acreage for rice will need be reduced even further in future USDA reports. In June alone, planted acreage was reduced from 2.526 million acres to 2.256 million acres, or 11%. Should the U.S. new crop remain this far behind in development, prices could really take off.
Over the last few months, rice exports have seen a notable surge as well. Recent exports were substantially higher than the four-week average. Should such robust exports continue, the current and future supplies of rice will have to be diminished in future USDA reports.
To take advantage of this bullish outlook, I would suggest placing orders to buy September rice at $14 or better, with the upside goal of $15.25 as a near-term target. When filled, use a $.50 trailing sell stop order from the executed price. The upside potential for this trade would be around $2,500 per contract.
Rice is the commodity to own at this point in time from an overall risk-adjusted return perspective. The fundamentals, technicals and money flow measures are all in synchronization, portraying a bullish future price picture for rice.
Shawn Hackett, commodities broker and author of the Hackett Money Flow report newsletter (www.hackettadvisors.com), is a nationally recognized agricultural commodities expert with more than 15 years of money management experience.