Coffee Could Have Volcanic Eruption

SHAWN HACKETT
Published 2/1/2010

Coffee over the last 20 years (11 two-year cycles), has seen three two-year cycle global surpluses and eight two-year cycle global deficits (coffee typically runs in two-year cycles with an up year and a down year). In that time, the cumulative net global deficit has been -36 million bags. This deficit has been satisfied by Brazilian buffer stocks that will approach zero in late spring. Price has not risen high enough to generate an increase in planted acreage and the needed spending on crop inputs to increase production.
Coffee is on the verge of repricing higher 20 years worth of insufficient pricing. Typically any repricing following extended mispricings overshoots the fundamentals. In coffee's case, the fundamentals support $2-$2.50 per pound, absent any adverse effects from Mother Nature. Should Mother Nature provide a frost or drought, or if the current concern over the flowering/blooming phase irregularities from this fall prove to be justified, there may not be any coffee available at any price.
This would be similar to what happened to Colombian coffee prices in early 2009 (record differentials) and what appears likely to happen again, only more extreme, in Colombia in 2010. Differentials against New York futures already have shot up 50¢ per pound and they keep rising and it is not even the highest demand period. The crisis in supply in Colombia could now spread to Brazil and set off a Roman candle of roaster buying panic.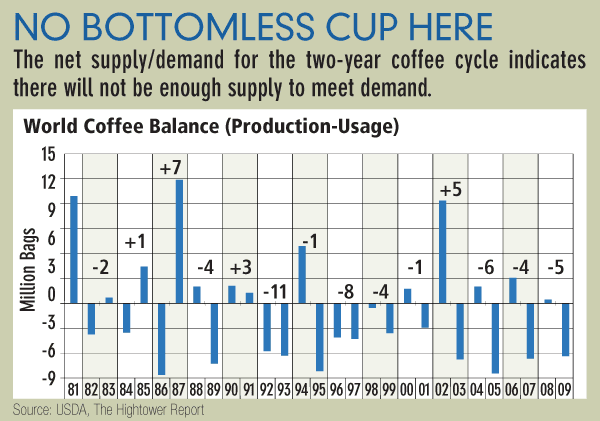 "No bottomless cup here," shows that supply and demand remain in an unsustainable imbalance. The main Intercontinental Exchange (ICE) warehouses for storing coffee in the United States are located in New York, Miami and New Orleans. Currently, New York has 452,000 bags, Miami has 73,000 bags and New Orleans has 516,000 bags. These represent the lowest levels in more than a decade. The only other time when supplies were lower was in 1997, the last major bull market. However, in 1997 Brazil had huge buffer stocks available to tap when the price was right. In the spring of 2010, Brazil will only have between 0 and 2 million bags in reserve. If the certified ICE warehouse stocks in the United States keep dwindling as they almost have to, then where will the coffee come from to replenish depleted U.S. supplies? It can only come from private roaster coffee buffer stocks, which are near record lows in terms of the historical stock to usage ratio.
Demand at some point in 2010 will need to be rationed to promote global production and buy time for this production response to filter into creating production surpluses that can rebuild depleted global buffer stocks.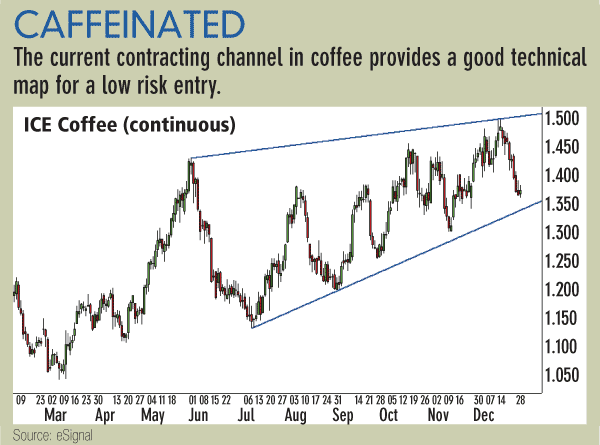 The earliest that this scenario could happen would be in crop cycle year 2012/2013. This would only be possible if prices spike and remain high for an extended period of time. The longer coffee takes to spike higher, the higher coffee prices will ultimately need to go to address this gross imbalance. "Caffeinated" illustrates that a bullish contracting channel has been in place since July. A break out of this pattern above the upper channel line is likely. At year end, coffee prices were sitting at the lower end of the channel at an ideal entry point.
The March 2010 contract is the spot price currently and is where futures purchases should be concentrated. A breakout of this pattern to the upside would place the next major historical technical price objective at $2 per pound. This would represent a move of around 60¢ from current levels, a profit per futures contract of $22,000 with an initial margin requirement of $3,200. Protective stop orders should be placed 10¢ below entry or just below a break of the lower trend line to mitigate downside risk. This provides a risk reward of 1:6 with the potential to increase sevenfold the initial margin requirement. This is an appealing risk profile.
Shawn Hackett, commodities broker and author of the Hackett Money Flow report newsletter (hackettadvisors.com), is a nationally recognized agricultural commodities expert with more than 15 years of money managament experience.