Equities 2010: Which stocks will rock?

CHRISTINE BIRKNER
Published 3/1/2010

The outlook for equity markets in 2010 is as muddled as ever after a year that only can be described as enigmatic. Equities had one of the best runs ever off of the March 2009 low, but it sure didn't feel bullish or that we were in the midst of a recovery. Once there were actual signs of recovery, the market corrected.
Both the Dow Jones Industrial Average and the S&P 500 rose during November and December 2009 and declined in January, with the Dow off nearly 3%. But just because it's difficult to predict exactly where equities are headed this year doesn't mean there aren't opportunities in this market.
Analysts say the forecast is muddled. "People are scared to death right now and that's when opportunities are made. If you put your emotions aside and focus on statistics, statistics are showing a stronger economy, at least in the first half of the year," says Keith Springer, president of Capital Financial Advisory Services.
The equities market is looking for a recovery from the economy at large, but no one is quite sure if that recovery will happen in 2010.
"2008 was the year of deflation. 2009 was the year of reflation, and 2010 is the year of indecision," says Shawn Hackett, president of Hackett Financial Advisors and author of the Money Flow Report newsletter. Hackett says for most of 2009, stocks and commodities markets were pricing in a sharp V-shaped recovery for 2010, but the recovery will be more gradual and equities will need to be repriced to match moderate economic growth. "Some of the earnings expectations that are built into the current stock prices have been overpriced. For 2010 [there will be a] disappointing economic recovery and equities having to correct downward to compensate for downshifting expectations," he says.
Paul Larson, equities strategist at Morningstar, says the question for 2010 is "where do we go from here?" "In the middle part of 2009, we bounced pretty hard from an economic standpoint. Now that we've got the initial bounce, where we go is a difficult question. Does the economy gain additional traction or do we go back down and enter [a] double dip? It's a tough call," he says.
Addison Wiggin, executive publisher at Agora Financial, says 2010 will bring the end of what he calls the "sucker's rally" of 2009, which wasn't a real recovery. "Over the long run, we're looking for new lows past the ones we saw in 2008. The rally we've seen is one of the longest recession rallies in history and it's not going to last and when it starts falling it's going to fall pretty hard," he says. "We're going to be in a bear market all year and it's going to be difficult for people to be enthusiastic."
Springer disagrees, saying equities are going to be much stronger than people expect. "Professional money managers have been bullish on this rally all along, but the individual investor has been incredibly bearish and remains that way, but not until they throw in the towel and start buying will this rally be over. Professionals are only calling for a 5-10% move in the market. [We could] see a 15-20% move through the first half of the year because the numbers are much stronger than people expect. The two most important things for a stock market rally are liquidity, and we've got a ton of it, and low interest rates."
FED STILL ACCOMMODATIVE
And speaking of low interest rates, analysts agree that the Federal Reserve is unlikely to raise interest rates in the near future. Some say not until 2011, with fall 2010 being the earliest prediction (see "Moving target," right). What the Fed does or doesn't do will have an impact on equities.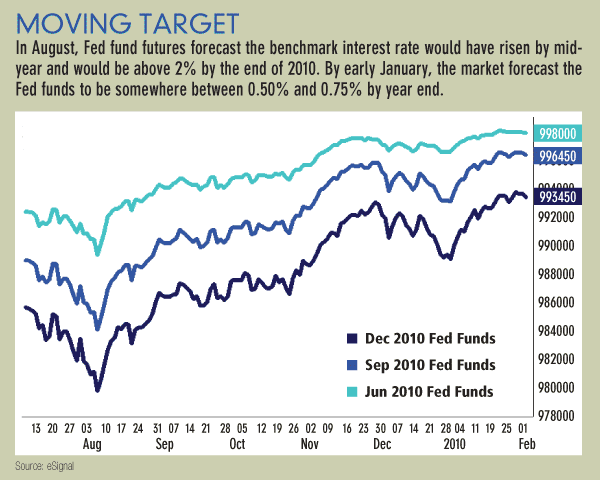 "[Federal Reserve Chairman Ben] Bernanke's likely to do things in moderation. The market would be able to deal with a gradual rate rise without having an issue with it. [Raising rates] wouldn't be a negative factor. For the first three rate rises, the stock market tends to do very well," Hackett says, adding, "They're not going to be raising rates in 2010. It's a non-issue. Growth [isn't] going to warrant it."
Larson says it's unclear when the Fed will raise rates, probably not until late 2010 at the earliest. "You're going to see a lot of withdrawal of liquidity-enhancing measures at the Fed. Interest rates may be one of the things that get moved when the Fed mops up this excess liquidity. The interest rate move will be one of the last moves [the Fed] takes, not one of the first."
Richard Roscelli, broker at Whitehall Investment Management of Las Vegas, agrees that the Fed is unlikely to act until late in the year. "They've got a very narrow window [to] raise rates. It's going to have to be very gradual, unless you see a real, sustainable move up with the employment figure," he says.
Springer says the Fed will not raise interest rates this year. "The Fed does what it says it's going to do. The Federal Reserve and the Fed bankers have decided interest rates will not go up in 2010, and I would believe not through 2011," he says, adding that continued government stimulus is still positive for the market. "Liquidity is coming in droves by the U.S. government. Nobody likes that it's coming from the government, but the market doesn't know where it's coming from. Money is money. I'm positive on the stock market for the first half, and the economy [will] start to rally."
NO CONSENSUS
Springer says the economy is adjusting for a whole new level of supply and demand with the aging baby boomer population playing a major role. "With 78 million people now reaching their savings stage, it's affecting the economy. That's the biggest drawback for this market. There aren't enough spenders out there. Baby boomers are past their peak spending years and are in saving mode." Despite that, he looks for the Dow to be at 11,700 and the S&P 500 at 1,265 by mid-2010 based on a continued loose monetary policy from the Fed.
Hackett sees limited upside in the market and says a 10% to 20% setback in the stock market could happen at any time. "The market is going to start to price in that the economic recovery is going to be more subdued. If they're going to price that in advance, they should start to price that in now. A 10% or 20% correction could happen in the first quarter and from there the market could stabilize and meander higher." For mid- 2010, he predicts a high of 9,000-9,200 in the Dow and 950-970 in the S&P 500.
Larson says, "We show the market to be fairly valued; it's neither overheated nor compressed and ready for a massive rebound. It could go either way." He expects both indexes to move 10% higher from late January, to about 1,210 on S&P and about 11,000 on the Dow for mid-2010.
Roscelli says in the S&P, the contract should find initial support at 1,041 as volatility may begin to moderate. He says the Dow should hold support at 9,890. "What's up in the air is what happens with inflation. If we do start to see some kind of tick up in inflation, then equities will find a boost and money will start to flow into this market, which might allow us to bounce off that 9,900 level and back up to 10,000."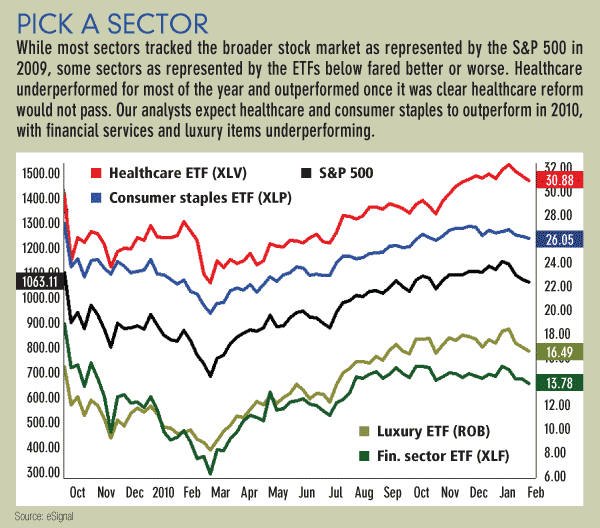 STOCKS: PICKS AND PANS
With the economy still on shaky ground and many analysts split on general market direction, it may be best to look for specific sectors that could outperform regardless of general market direction. Analysts say this year is a time to protect your portfolio rather than going out on a limb and that means sticking to certain names and sectors.
"Look for high dividend-paying stocks. It's a year where you want to hold on to what you've got, try to make some better money than 0%," Hackett says. He recommends staying in food and supermarket stocks, healthcare stocks and companies that are not connected to the economic recovery or lack thereof, have a lot of large excess cash flows, are paying large dividends and are unlikely to raise those dividends in 2010. "It's a year to be defensive. You don't try to hit the home run or look for something tied to a massive economic recovery," he says. Hackett recommends staying away from housing, banks, anything tied to construction, and luxury goods, due to a decrease in consumer spending.
Larson agrees that healthcare stocks are looking attractive. "[Healthcare] really sold off hard late in 2009 as health care reform legislation inserted a lot of uncertainty into the market. The sector has bounced back, but it looks 10% undervalued with some names looking more attractive than others," he says. He says investors should avoid media stocks as audience fragmentation in the broadcast network world due to the Internet and cable continues.
Springer also likes the healthcare sector, including healthcare REITs and companies like Health Care Property Investors Inc. (HCP), which focuses on aging baby boomers and senior healthcare (see "Pick a sector"). He says investors should avoid the consumer discretionary sector. "Stay away from anything consumer-related. The baby boomer situation is the biggest problem for the economy, so the government is making up the difference. They're spending in the place of the consumer. They can do it for about a year more before [the government] goes broke," he says.
Roscelli says investors should stay out of the financial sector and recommends REITs, but warns, "You have to do your homework and see which properties are in [each REIT]. There's going to be opportunity there if you get ones that are managed well."
Wiggin, too, says financial stocks are a no-go in 2010. "None of the problems [of 2008] have been solved yet. They've been papered over with bailouts. Stay away from any of the blue chips that are dependent upon a strong economy in the U.S. or Europe. We're going to be in this low growth phase for a number of years," he says, adding, "Companies that depend on retail spending are going to be a nightmare." Instead, he says investors should focus on companies dealing with emerging technologies such as stem cell research, which benefit from government spending, and look to opportunities in emerging markets like China and India.

STEADY AS SHE GOES
So how can equity investors protect themselves in 2010? Analysts recommend doing your homework and not getting emotional (see "Buy this, not that").
"Invest with [your] head, not with [your] heart. Many people are buy-and-hold mostly because they're lazy. An investor must have an exit strategy, but you've got to be tactical. If the market looks like it's going to get hammered, don't sit through it. Have an exit plan and make a strategy. Don't be afraid to sell things," Springer says.
Roscelli says flexibility is important, as is properly balancing your portfolio, including in it things like futures that do well in a volatile environment. "A lot of the easy money has already been made, and that's the thing investors need to be aware of. Do your homework. Don't forget about what happened in '08. Learn from it and add things to your portfolio that will allow you to ride out changes in volatility or turns in the market," he says.