Orange Juice Up

CHRISTINE BIRKNER
Published 4/1/2010

A freeze in Florida sent orange juice prices up this winter, and from the looks of it the uptrend could continue.
Shawn Hackett, president of Hackett Financial Advisors, says the market has priced the freeze in and it won't be much of a factor any more. However, he says demand for orange juice could fall off because of higher prices and the end of cold and flu season. "We're looking at a market that will probably have a sizable correction as we get into the springtime and it wouldn't surprise me if we took the market down some," he says. He sees prices at $1.25-$1.30 per lb. by mid-April given lower demand and the pricing in of extra imports from Brazil.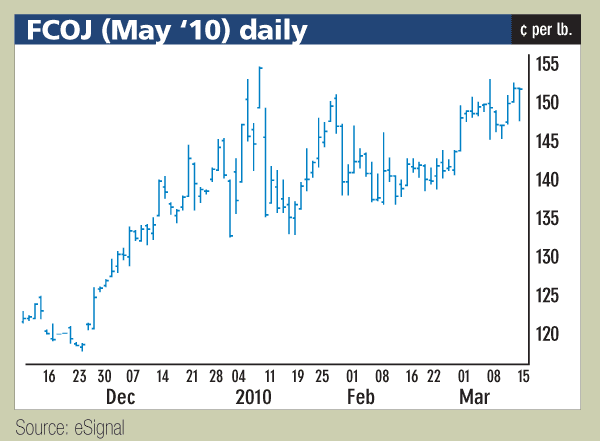 Higher prices due to the freeze have put a bid under the market, according to Spencer Patton, chief investment officer of Steel Vine Investments. "The market's very healthy fundamentally and technically. Selling puts below the market at 100 or 110 seems to be a viable strategy for trying to attack this market," he says. "The orange juice crop is so sensitive that we should see elevated prices at least through the end of 2010." He says prices will go higher, up to $1.60 and above by mid-April.