Corn: Tumbling Down

CHRISTINE BIRKNER
Published 5/1/2010

Good weather conditions should mean a bumper crop for corn this growing season and keep the price of corn low, most analysts agree.
"This year, it looks like we're going to have favorable weather in April and May for planting, which means that planting progress likely will be better than the last few years and better than the five-year average," says Shawn Hackett, president of Hackett Financial Advisors. "There's a likelihood that we're going to see corn lower." He says corn could re-test the $3.30 area in mid-May on good planting progress and higher acreage.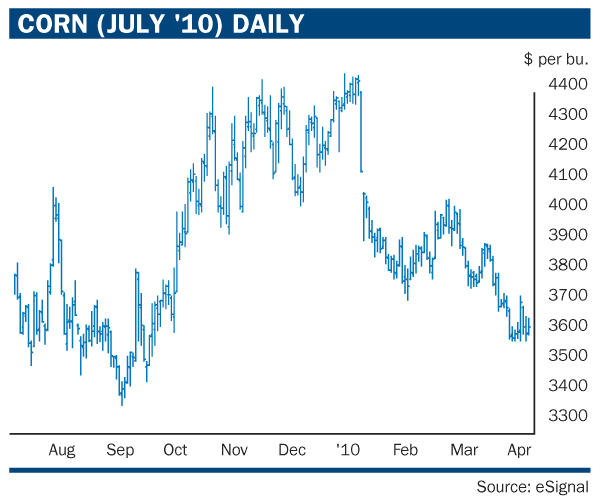 "Fundamentally, there's no reason for this market to rally," says John Sanow, analyst at Telvent DTN. "We've got tremendous supplies; it looks like we're going to have a bumper crop." He expects corn to be somewhere between $3.75-$3.90 in May, unless there is a drastic weather event.
Carley Garner, trader and analyst at DeCarley Trading, sees heavy support in July corn near $3.50 and believes some short-covering inspired by weather uncertainty is possible. "Once you get into early June, you look to play the short side. If the $3.80-$3.90 area is reached, we'd be bearish from there," she says.
Allendale Inc. vice president Joe Victor disagrees, believing corn will go higher in May, though he expects a solid crop will push corn back near $3 at harvest time.