Soybean Oil: Ready For A Breakout?

SHAWN HACKETT
Published 6/1/2010

When analyzing a particular commodity complex, it is very important to attempt to identify the "leader of the pack" that will outperform the complex and provide the most impressive investor returns. Usually there are several criteria to measure. They include superior technical price patterns, dominant Money Flow characteristics, historical undervaluation on a relative basis, and superior bullish fundamentals. Based on these factors, soybean oil likely will outperform the bean complex in the months ahead.
As one can see in "Fourth time is the charm," the two-year spot price in soybean oil is in an impressive up trending wedge formation structure that has been developing since December 2008. This brings up the "Rule of Three," which often predicts breakouts. The "Rule of Three" simply states that after a market has attempted to break through a particular resistance level three times and failed, any fourth attempt tends to be successful. As you can see, the 42¢ per pound resistance level has been tested three times: June 2009, January 2010 and March 2010.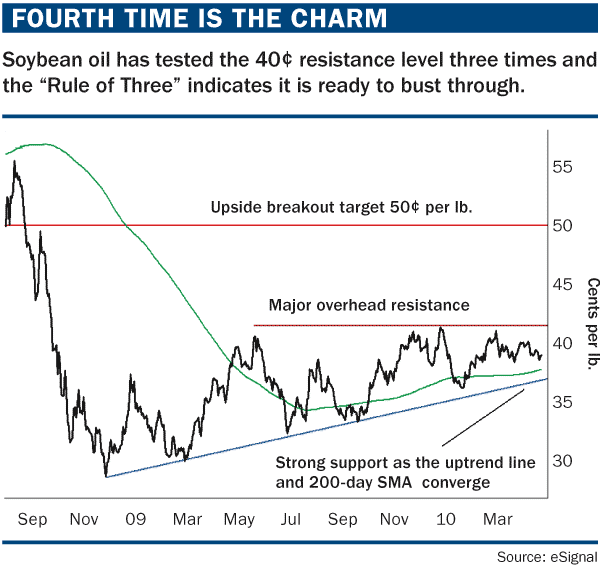 Also, there is strong support just beneath the market near 37.5¢ that represents the uptrend line drawn from December 2008 and the 200-day moving average. Think of this pattern as presenting a coiled spring that keeps getting tighter as the formation narrows over time. At some point, the pent-up bullish energy of the spring is released in a violent spike like behavior.
The pattern suggests that over the next 30 to 45 days, a bullish breakout should occur. The upside trajectory of such a breakout would project an initial target at the next major resistance area that exists at 50¢.
It pays to understand what large speculators are doing and identify when such action is indicative of trend acceleration. Since February 2010, the money flow of the large speculative funds has been in an uptrend and has recently surpassed sellers becoming the dominant force in the market. When this crossing occurs, often a market will begin to see price acceleration to the upside.
Another key indicator for bean oil is its value relative to beans themselves. Bean oil has been undervalued compared to beans for more than three years. It makes sense that if soybean prices (higher oil producer input prices) are high relative to the prices of bean oil (lower bean oil producer end user prices), that producers would slow down their production, given the unattractive margins, until such time that margins improved to more normal levels. This has the effect of reducing bean oil production, thereby contracting supply. Lower supplies tend to be very bullish for commodities in general and especially for a particular commodity like bean oil that continues to see strong global demand growth. This suggests that bean oil prices should outperform soybean prices in the months ahead.
Adding to this bullish scenario, global bean oil stocks-to-usage ratio is at the lowest levels since 1976. The world currently has less than a one-month supply of bean oil in reserve. If any supply disruption were to take place for any reason, this market would have to ration demand in a hurry.
This kind of fundamental set up is a powder keg ready to blow.
The bean oil market offers a very attractive investment opportunity at this moment given the very bullish technical wedge formation structure, impressive bullish money flow condition, and historical price undervaluation to soybeans and 35-year lows in supply vs. demand. This not only argues for an eventual strong bullish price breakout for bean oil, but it also suggests that, given the superior comparisons to soybeans in every major category discussed above, that soybean oil prices should outperform soybean prices in the months ahead.
This is important because it allows for spreading opportunities and investors to take advantage of bean oil outperforming beans on a relative basis as the current bearish outlook for beans could drag its products down with it.
The initial margin of a soybean oil futures contract is $1,080 per contract with a total contract value of $23,148. The correction in soybean oil prices in late April offers an ideal opportunity to buy near strong support near 37.5¢ ahead of a likely major bullish breakout in prices by mid-June.
Shawn Hackett, commodities broker and author of the Hackett Money Flow report newsletter (www.hackettadvisors.com), is a nationally recognized agricultural commodities expert with more than 15 years of money management experience.