Is live cattle about to get slaughtered?

SHAWN HACKETT
Published 11/1/2010

Live cattle prices have had a spirited rally in 2010 as the supply contraction effects of the 2008/2009 financial crisis began to dominate price discovery. Also, a temporary rebound in U.S./global economic activity helped provide a spike in demand. Both bullish factors are about to come to an abrupt end.
Another temporary factor that also has propelled cattle prices higher has been a huge spike in feed prices stimulated by the historic Russian drought and apparent disappointing U.S. corn yields. This bullish factor was way overplayed in the cattle price discovery mechanism. This sets up a classic contrarian bearish trade that should be very profitable as each of these bullish forces evaporate. The best way to play this bearish view from an overall risk versus reward standpoint is to establish a December 2010: February 2011 bear futures spread.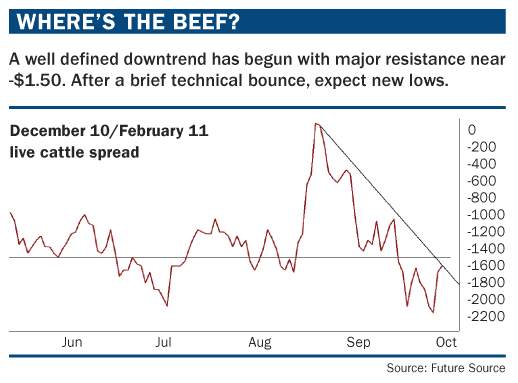 A bear spread, in this case, means you want to short the December 2010 live cattle futures and go long the February 2011 live cattle futures. One profits on a bear spread as the spread widens out or becomes more negative. Thus a declining bear spread price graph (see "Where's the beef?" above) becomes increasingly more profitable. The reasons why one should expect the December 2010 live cattle prices to fall in relation to the February 2011 live cattle prices are as follows:
A slowing U.S./global economy: Everywhere one looks, there are signs that the global economy is in a period of slowing down. Short-term fiscal stimulus is running out with no signs of a robust recovery. Beef is a very expensive food item and is one of the first places people cut back spending when an economic slowdown takes place.

Seasonally, demand falls off during the fourth quarter in the United States. There tends to be a reliable downshifting in demand for beef as more chicken, ham and turkey are consumed during the holiday season.

Cattle farmers have been very profitable over the last year, which has helped repair their fractured balance sheets that emanated from the 2008/2009 financial crisis. This newfound profitability will help promote two bearish features to the cattle market price discovery mechanism: increased weights per head as cattle farmers look to cash in on higher prices and a stabilization in cattle herd sizes from the sharp declines over the last several years.

In the Sept. 1 U.S. Department of Agriculture (USDA) report, cattle on feed grew at a larger than expected 2.8% from a year ago, August placements grew at 7% while marketings grew at a 7% rate from a year ago. This suggests that cattle farmers are feeding more cattle and selling more cattle than a year ago, as would be expected given the current levels of profitability.
A major price correction in grain markets. There has been much concern that escalating grain prices would increase the costs for feeding cattle, thereby reducing cattle farmer profitability and forcing a reversal of the trends highlighted above. Such fears, although valid on a longer-term basis should grain prices stay high, have very little impact to cattle farmers' short-term decisions. If anything, high grain prices stimulate greater cattle sales as farmers look to cash in on what they have, instead of feeding higher priced feed grain to their cattle herds. The grain bull market move that has occurred over the last few months has gone way too far. We have plenty of wheat, soybeans and corn in the world to feed the world over the next three months. As the harvest in the U.S. progresses, feed prices should moderate and take this bull element out of the equation.
Money flow characteristics of the commercial operators tend to be short/hedged at major tops as they want to lock in attractive prices. Currently, commercial operators are short/hedged a record amount since the commitment-of-traders data became available in 1986. The behavior of the commercials operators suggests that they are very worried about lower prices in the months to come and do not share the current bullish enthusiasm of the market.
There are numerous bearish fundamental factors unfolding over the next three months in live cattle. A bearish technical picture also is emerging. Instead of going short, the superior way to play this bearish outlook from a risk/reward standpoint would be to deploy the December 2010: February 2011 bear live cattle futures spread.
The initial margin for a December/February live cattle bear spread is $337.50 per spread. Traders should enter below the major resistance level of -$1.50 with a -$3 target. A stop at -75¢ would set up a 2:1 reward versus risk profile.
Just because the live cattle market is about to get slaughtered does not mean that your commodity portfolio has to as well.