Is cotton topping?

Michael J. McFarlin
Published 12/10/2010

Cotton futures experienced a generational rally making all time highs above $1.50 per lb. in November. After a sharp downward correction in mid-November, cotton has headed back up. Commodities analyst Shawn Hackett says the price action in cotton is reminiscent of other major spikes that typically end in a huge sell-off.
In fact, Hackett says that cotton could be offering one of the best ever shorting opportunities and that the trigger may have hit today, Friday Dec. 10 (see chart below).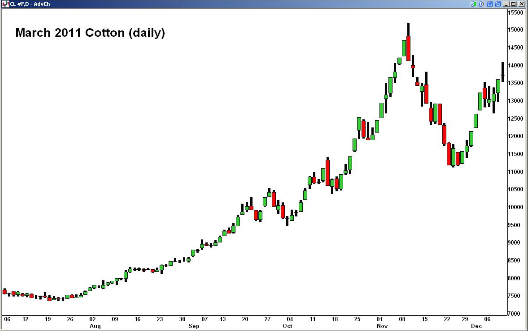 According to Hackett, in past spikes, cotton typically provides an opportunity for shorts as the market usually attempts to test a high after an initial correction. He says cotton will often retrace 65% of the initial correction before once again falling precipitously. Cotton retraced approximately 65% of the move off of the early November high.
The continuous weekly chart below shows this happening in 1973 and again in 1976. In 1973 cotton peaked, fell sharply, tested the high and then dropped more than 50% in less than a year.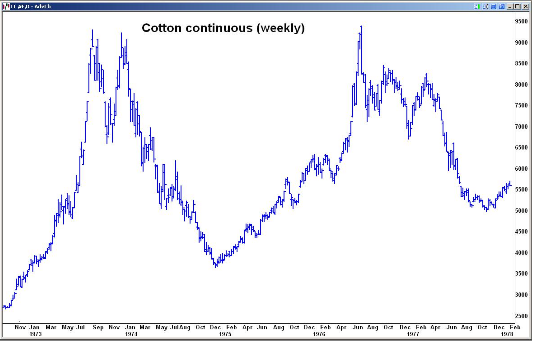 With cotton settling well off its high on Friday, Hackett says that a high may have been made. He is not sure the high is in and recommends tight stops with every short, but adds once a top is made the fall will be sharp. He expects cotton to drop below 80¢ by as early as the first quarter.