Standing in high cotton

DANIEL P. COLLINS
Published 01/01/2011

If you noticed more polyester products in your stocking this year don't blame Santa Claus. It is just that the synthetics are about a quarter of the cost of cotton after this fall's historic upward spike. But don't fret because, as they say, 'the cure for high prices is high prices.'
And there could be a massive cure already under way in cotton. Commodities analyst Shawn Hackett says we could be near or in the midst of an historic shorting opportunity. Hackett says that in past generational moves in the fiber, which this fall's rally certainly was, cotton typically corrects sharply —as it did in mid-November — and then attempts to test the high before a precipitous fall. We spoke with Hackett on Dec. 10 after cotton settled well off its high. Hackett could not say for sure that a high had been reached, but wasn't taking any chances as it already had retraced about 65% of its correction.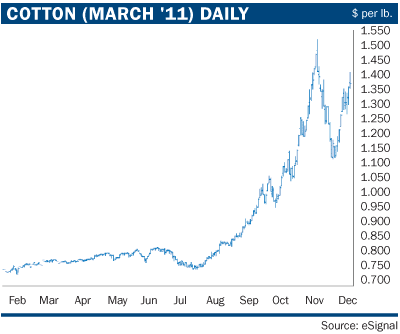 Cotton made its historic highs after two tough years that included crop failures in India and Pakistan, and fear of shortages leading to restrictions on exports from those nations.
Hackett expects cotton to drop 50% from its high, potentially taking it below 80¢ by the end of the first quarter. He says if the sell-off is already under way, the November low of $1.11 should provide a speed bump for shorts late to the party.