Bullish Corn? Buy Wheat

Shawn Hackett
Published 08/25/2011

The month of July was an unmitigated disaster for corn pollination. One of the hottest Julys in 40 years coupled with a record number of warm nighttime temperatures have devastated any hope of achieving good yields. The likely outcome will be a national corn yield near 152 bushels per acre. Harvested acre estimates likely between 1 million and 2 million acres are too high. This would place overall U.S. corn production near 12.7 billion bushels.
Current United States Department of Agriculture estimates are for corn demand to be near 13.5 billion bushels in 2012. During the post-crash year of 2009, corn demand fell by 800 million bushels. Even if we assume a similar Draconian decline in corn demand for 2012, that still would place overall demand at 12.7 billion bushels, which would be equal to production. It is doubtful that demand for corn will fall by 800 million bushels this time around.
Bottom line: Overall corn supplies will not be able to increase this growing season despite the best efforts by farmers. Outside of temporary bouts of fund liquidation because of the current bearish macro factors, the downside in corn seems very limited between now and the spring 2012 planting season. Should the corn market make any quick declines to the low $6 range because of outside forces, it would be a solid buying opportunity. Hopefully next year Mother Nature cooperates.
However, owning corn may not be the best way to play this bullish fundamental outlook. As a result of the corn market's yield debacle, one must be hyper-bullish CBOT wheat. "Cheap wheat," (below) shows the long-term correlation of wheat vs. corn. As you can see, wheat is historically undervalued in relation to corn and this can mean only one thing: Substitution feed demand for wheat globally as a replacement to corn feed is going to skyrocket. In fact, evidence already is showing as much as a 20% increase in feed wheat demand from a year ago. That could be the highest feed demand for wheat in two decades. Although at the moment wheat supplies look plentiful, they will evaporate before your very eyes. As global wheat disappearance grows, global supplies will begin to get very tight again and wheat will begin to rise and outperform corn in a major way.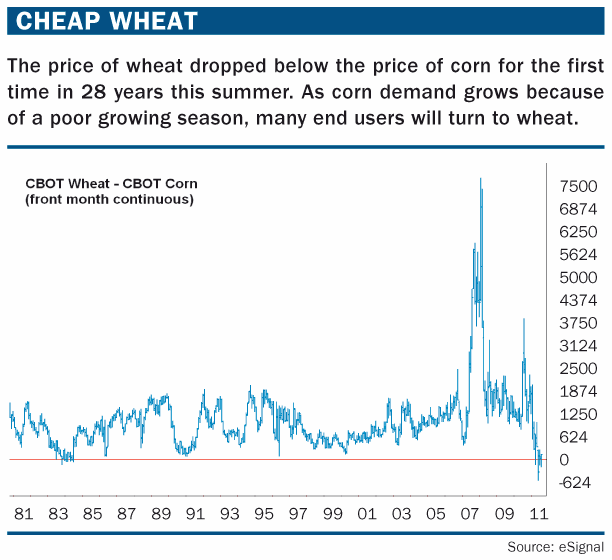 Anyone in the market buying CBOT wheat for feed should do it during this current deflationary macro period and do it aggressively. End users should get their needs taken care of out into the future. Beyond the bullish demand side fundamentals, the money flow picture is locked and loaded for a massive move higher.
In the recent commitment of traders report (COT), commercial net positions are showing one of the greatest commercial buying panics ever seen in CBOT wheat. When they buy like this, there can be only one reason. They believe prices are going higher and future supplies will be less available.
Another COT money flow factor that very few pay attention to is the small trader net positions. Small traders are contrarian indicators as they tend to get record long at tops and record short at bottoms as they move in herd like fashion at the tail-end of trends.
Currently,small traders are approaching near-record short positions that have coincided with the last two major bottoms in wheat. This is a confirming bullish money flow factor to the bullish commercials that suggest all the speculative traders have already sold the CBOT wheat market and are vulnerable to a massive short covering buying spree.
Outside of going long the CBOT wheat market, two other opportunities exist. The first would be to go long wheat and short corn in a cross market spread. Cross market spreads always are risky but can be insanely profitable for those that have the stomach for the typical volatility that comes with this kind of trade. The other, and perhaps less volatile opportunity, would be a bull futures spread on CBOT wheat. That involves buying the March 2012 contract and selling the July 2012 contract.
The early August spread level near -30¢ represents a historically attractive entry point for a bull spread. The July low of -52¢ goes back at least 35 years, a period that never saw this spread go below -30¢.
Whichever approach you prefer, there is a historic bullish opportunity in wheat as there still is a great deal of selling because of the current sovereign debt concerns. Deploying spreads in the current volatile commodity environment will help provide a lower risk investment vehicle and lower margin requirements with plenty of time to have the bull trend in wheat come to life.
If history is any guide, the upside potential for both the long wheat/short corn and bull wheat spreads are outstanding.