Using COT To Follow The Smart Money

Shawn Hackett
Published 03/01/2012

The most important factor about large speculative funds is that they tend to be trend followers and aggressors in moving markets. Commercial traders tend to be the shock absorber on the other side of the speculative trade. Commercials tend to be value buyers.
The Commitments of Traders (COT) report from the Commodity Futures Trading Commission (CFTC) provides a window into the market activity of both sides of the market.

If we want to predict future pricing behavior using COT data, we should analyze longer-term trends in speculative money capital flows. Most of the time, the money flow of the speculative capital will turn either up or down in advance of major trend changes in the price of the underlying commodity.

This market action is good because it gives investors and commercials time to make a smart decision on what actions to take. Sometimes, it will occur after a change in trend already has occurred, but normally this later signal still will provide ample time to make a smart hedging or investment decision. No one indicator can be right 100% of the time. This money flow technique also should be used with other technical and fundamental indicators to improve overall success.

Some of those factors include the following:
Relative price of the underlying commodity in relation to the Continuous Commodity Index (CCI);
Current level of the money flow in relation to historical precedent (that is, whether we are at extreme low levels or high levels that have been associated with major trend changes in the past);
Price momentum indicators, such as different crosses of moving averages at different durations;
Relative price value as a standard deviation from the 200-day moving average; and
Major recent structural supply/demand changes.
Here we'll discuss a methodical approach to how to use the COT data to provide high probability price outcomes so that investors and commercial operators can make the best buy and sell decisions. We'll examine this approach in the context of the crude oil market and go over a five-year analysis of how this system works, and what the current setup portends for current price direction.

The first step is to understand the nomenclature shown in "Big money flows" (below). Remember, we are looking for term-trend changes, and one of the best time frames for that is monthly price and COT charts.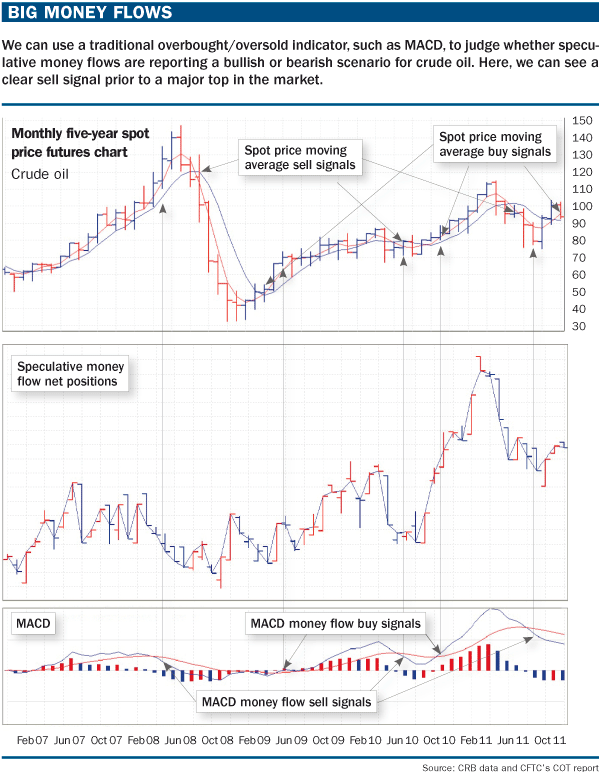 A reliable indicator for this exercise is moving average convergence-divergence (MACD), applied here not to price but to the speculative money flow net positions from the CFTC's COT reports at www.cftc.gov. The MACD simply is a way to use different duration moving averages to determine trend changes, identified by when the lines cross each other. The two different moving averages used for the MACD on "Big money flows" are the 12-month (blue line) and 24-month (red line) durations. When they cross to the downside, it is a money flow sell signal. When they cross to the upside, it is a money flow buy signal.

Let's look at 2008 when crude oil made a historic high and review what this methodology would have predicted. As you can see, a major MACD money flow sell signal was triggered in May 2008. This sell signal occurred two months before the final top and before one of the greatest collapses in crude oil history. The COT/MACD analysis was an excellent leading indicator that a major top was approaching and that a significant selling opportunity had become available to investors and commercials alike.

While COT analysis is a reliable trade entry signal, it is not quite sensitive enough to protect profits. For that, it's better to rely on an indicator based on price itself. There is a reliable trigger to cover a particular position and take profits after a major MACD money flow sell signal/buy signal has been initiated. Applied to price, it's when the three-month moving average (red line) and the six-month moving average (blue line) cross.

Looking at the chart, we can see that a bullish crossing of these moving average lines occurred in April 2009, which would have directed us to buy back shorts at about $60 per barrel on a short position initiated around $120 per barrel, for a tidy $60 per barrel profit.

Other signals generated on this chart include:
A MACD money flow buy signal was triggered in June 2009 at $70 per barrel. Using the same moving average methodology for the spot price chart would have gotten us out of the market in July 2010 at about $75 per barrel for a small $5 per barrel profit.
A MACD money flow buy signal was triggered November 2010 at $85 per barrel. A spot price moving average sell signal was triggered at $95 per barrel for a modest $10 per barrel profit.
In September 2011, a MACD money flow sell signal was triggered at about $80 per barrel, which was followed by a surprise rally. The price indicator got us out of the market in December 2011 at $95 per barrel for a $15 loss.
The current crude oil market provides a good example for understanding the basis for this approach. The crude oil market remains in a MACD money flow sell signal, suggesting that lower prices are likely, especially given the relatively high level of current speculative positions as it relates to historical precedent.

It is a shame that a spot price moving average buy signal was triggered that caused a buy-back and a loss. All traders know that sometimes markets just act in strange and unexpected fashions. We likely are in a scenario where crude oil is heading lower, and perhaps a renewed spot price moving average sell signal will be the catalyst to re-establish prior short positions.

The key to making money in commodities is not to lose a lot while you are seeking the occasional big score, such as what was made in 2008 in the crude oil market. No one can predict the next big trade, other than to say that it will come. Successful traders put themselves in position to take advantage of those trades when such an asymmetrical opportunity arises. This is true for all markets, not just energy, and this COT-based approach works equally well in all other commodity markets, particularly the agricultural markets.

Right now, most commodity markets have well-established MACD money flow sell signals and there is not yet any sign that a major turn-up in speculative money flows is imminent. However, many markets are beginning to see extreme low levels of money flows that have preceded major turns back up in overall pricing behavior. Based on this, the next three to six months should provide major buying opportunities as evidence begins to mount that speculative capital flows have begun to move back in. This should set off a series of MACD money flow buy signals that investors and commercials can use to position for the potential next big bullish trending opportunity. We also should get a series of spot price moving average buy signals that should trigger us to close out prior short positions.

For now, the bears remain in control, but the bulls should begin to wake up and smell the next major price rise. The key will be to follow closely speculative capital flows, and the system described here has been one of the better ways to profit from the long-term changes on COT trends.

Patience pays

The most important quality for making consistent money using the COT data and this simple system is to remain patient and wait for the sell/buy signals. It is all too tempting to try and jump the gun and attempt to front-run a major money flow signal. That is where many COT data followers go astray.

It is better to miss some of the upside from a major low and know for sure a money flow trend has turned up than to try and speculate that it will. All too often you will find yourself trying to catch a falling knife that keeps falling further than estimated when there's a delay in money flow's eventual return.

We are entering a dynamic time in overall commodities. There is a high likelihood that 2012 will be viewed in hindsight as the year of major lows, providing hugely profitable buying opportunities. More time is required to find evidence that speculative capital flows have begun to come back into overall commodities. With respect to crude oil, the path of least resistance is for much lower prices given the current MACD sell signal and historically high current level of money flow. With crude oil expensive in relation to the CCI as well, all arrows are pointing down. Look for a spot price moving average sell signal to trigger getting short this market.

If used correctly, and with discipline, the COT data can be a treasure chest of valuable timing signals for more reliable profits over time.