China Outlook Lifts Lead, Copper ETFs

By TRANG HO, INVESTOR'S BUSINESS DAILY
Posted 09/13/2010 06:44 PM ET

Industrial metals ETFs rallied Monday after China said industrial output in August jumped at a faster rate than expected.
China's industrial production rose 13.9% year over year in August, up from a 13.4% gain in July.
Meanwhile, August exports grew 34.4% after expanding 38.1% in July. Imports surged 35.2%, improving upon July's 22.7% growth.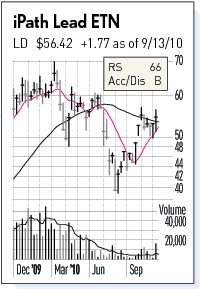 Weakened export growth reflects a slowdown in global demand, while a rebound in imports signals that China's economic slowdown may be less severe than expected, says Ed Yardeni, president and chief investment strategist at Yardeni Research.
IPath Dow Jones-UBS Lead ETN (LD), the only exchange traded product for the heavy metal, leapt 4.16% Monday to 56.42. LD is thinly traded but has climbed 45% in the past three months.
It remains in a longer-term downtrend that started in January, when it peaked near 70. LD has formed a series of three lower highs and two lower lows. It faces overhead resistance at its prior highs of 57 and 61.
IPath Dow Jones-UBS Copper ETN (JJC) gapped up 2.3% Monday to 46.44. The fund closed 1% above a 45.77 buy point in a four-month cup-with-handle base. JJC rose 27% in the past three months and is close to recovering its 52-week high of 49.51 set in April.
Global X Copper Miners (COPX) and First Trust ISE Global Copper (CU) both rallied almost 4% Monday. They track a basket of copper-producing companies. CU's and COPX's charts look similar. Both ETFs closed within 4% of a buy point in a cup-with-handle base.
"China's metal demand is driven by the country's continuing building boom; as of July, 337,761 construction projects were under way, an increase of 28,847 from the same period last year," Matthew Circosta, an economist with Moody's Economy.com, wrote in a report released Friday.
Although the pace of new development is slowing this year, it will be gradual rather than a rapid deceleration, Circosta says. "As China's expansion stabilizes at a lower but healthier growth rate," he wrote, "and fears of a double-dip recession recede in the U.S., metals demand and prices should remain strong."
Another Bubble?
Others have another view. Shawn Hackett, president of Hackett Financial Advisors, says prices are too high and industrial metals are in a bubble, even though they haven't recovered the levels seen before the 2008 commodity bust.
He believes prices could fall 20% to 30% in the next 12 to 18 months for two major reasons: (1) China's stimulus spending and loosening of controls on bank lending have artificially hiked demand for cars and housing — two major consumers of industrial metals — and (2) the Commitment of Traders report provided by the U.S. Futures Trading Commission shows that speculators have piled into industrial metals, betting that prices will go higher.
"Traders tend to be most optimistic at the top and most pessimistic at the bottom," Hackett said. "When they're record long, like they are now, they might all want to get out at the same time."
Vanguard's New S&P ETFs
Vanguard last week released a batch of S&P-index-tracking ETFs that undercut their competitors.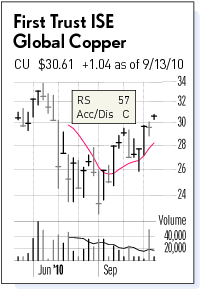 Vanguard S&P 500 (VOO) will charge a negligible 0.06% annual expense ratio vs. 0.945% for State Street Global Advisors' SPDR S&P 500 (SPY) — the largest ETF by assets — and 0.09% for iShares S&P 500 Index (IVV).
The low-fee ETF and mutual fund leader launched eight other ETFs based on S&P's U.S. equities indexes: Vanguard S&P 500 Value ([STOCK[VOOV]]), Vanguard S&P 500 Growth (VOOG), Vanguard S&P Mid-Cap 400 (IVOO), Vanguard S&P Mid-Cap 400 Value (IVOV), Vanguard S&P Mid-Cap 400 Growth (IVOG), Vanguard S&P Small-Cap 600 (VIOO), Vanguard S&P Small-Cap 600 Value (VIOV) and Vanguard S&P Small-Cap Growth (VIOG).
These ETFs charge between 0.15% and 0.20% of assets in annual fees.