Goldman Raises Estimates for Caterpillar. But Why?

Justin Rohrlich July 6, 2010 3:40 PM|



A rosy outlook has no factual basis, others say.

Goldman Sachs raised its estimates today for Caterpillar (CAT) through 2012, noting that "North American demand for its equipment should escalate soon."
Goldman has a $70 price target on the stock.
Caterpillar is also bullish on itself, revising its sales and revenues forecast to $38 billion-$42 billion, as well as revising its 2010 profit forecast to $2.50-$3.25 per share.
In Caterpillar's 10Q for the first quarter of 2010, CEO James Owens states:
The main driver behind our improved outlook is robust growth in Asia/Pacific and Latin America and continued improvement in mining and energy globally. We are increasing production schedules and expect sales to improve as we move through 2010. We expect to continue to add employees around the world to support growth and in the United States to support growing exports. We have seen a marked increase in demand for mining equipment -- a result of continued strong commodity prices and growing confidence in economic recovery. We have also seen improvement in sales of aftermarket service parts, which is usually an early indicator of growing demand for machines and engines.
Shawn Hackett, president and CEO of Hackett Financial Advisors, a money management firm with a specialization in commodities, isn't surprised that Owens has such a sunny point of view; he tells Minyanville that "a CEO's job is to be the best salesman in the company."
He elaborates:
A CEO isn't going to get on a conference call and tell you everything's falling apart. And when they put up lousy numbers later on, they'll tell you, "We got blindsided; we didn't see it coming." Right now, I see no signs of a cyclical economic recovery whatsoever, in the US or globally.
Why the disparity between Caterpillar's outlook and Hackett's?
Hackett explains:
Buy when CAT says the world is coming to an end, and sell when CAT says things are great. CAT's talking about what they see in the rearview mirror. Things were looking up because of the artificial demand created by the US government. As soon as those levers are taken away, you'll see that there's no real cyclical demand. China? China has flooded their economy with money, but in reality, China's economy is no better off than it was when we saw that trough in March of '09. The only thing that can keep this system going is another dose of leverage. However, at some point, if a drug addict takes too much, he ODs and dies. We have to let the economy clean itself out from its drug -- too much leverage. I have no idea what Ben Bernanke or Barack Obama or China are all going to decide to do, but we are decelerating, the money supply is collapsing, and the velocity of money is not going anywhere. That is not a symptom of a global robust economy. It's probably a sign of an economy that's already back in recession, we just don't know it yet, since it takes some time for those numbers to make sense in hindsight. Six months from now, almost assuredly, things are going to look terrible again. Good numbers now are likely a temporary peak in this cycle.
Hackett also points out that cyclical companies like Caterpillar are generally not the best sources for an accurate economic outlook:
I wouldn't be buying cyclical stocks right now. Mining has been driven by industrial metals going through the roof. Copper just collapsed. The Baltic Dry Index is collapsing because demand for freight is going down. Why? Because demand for industrial commodities are going down. I like to look at what the Economic Cycle Research Institute is saying. They have one of best track records for determining future economic activity -- collapsing. The adjusted monetary base -- collapsing. The money's not going anywhere. No growth. All the money in the economy is going toward debt reduction. I believe we're heading for a serious slowdown that will come to a head in the fall. It could be an extremely ugly period for capital markets.
Hackett says that, right now, the smart money is going to "things that are not cyclical."
"You want to be investing in things that are necessities of life," he says. "Food, agriculture… they're now undervalued because everyone's been trying to buy the cyclicals. Remember, you have to eat. Commodities like milk, rice, grains are where I'd be."
As for stocks, Hackett has his eye on supermarket chains and food companies.
Weis Markets (WMK) is a stock I'm liking right now. And, in general, a lot of money is going to rotate into companies like Smucker's (SJM), Altria (MO), Sara Lee (SLE), until the economy straightens itself out. CAT doubled over the past year, why would I want to buy that now? Everything's a pendulum. Is this current move sustainable? If it isn't, as I believe, then ignore the good news because it's not going to stay that way. This isn't an irrational idea, especially in cyclical stocks. CAT was trading in the $70-$80 range during the last global economic peak. Today, it's around $60. Not too far off from the last peak, and we all know the global economy is nowhere near what it was back then. What's CAT doing up this high? CAT has no business being at $60. Investors think we're in a V-shaped recovery. Not happening this time around -- too much leverage in the system. It will be a garden-variety recovery. Remember, in every market there are always two sides. For every buyer, there's a seller. There's always a counterparty that thinks you're a fool. Will I be proven a fool? Could happen, sure. But I doubt it.
Independent trader Jeff Macke agrees wholeheartedly with Hackett's assessment.
"Goldman's outlook is pretty weird when you have a slowing economic environment," he says. "If we're double dipping, or really, just continuing to dip -- as we haven't exactly turned up -- it makes no sense. I almost got booed off the stage for pointing that out about shipping and ag in 2008. Go look at the five-year chart on DryShips (DRYS) right now and tell me if that booing was warranted or not."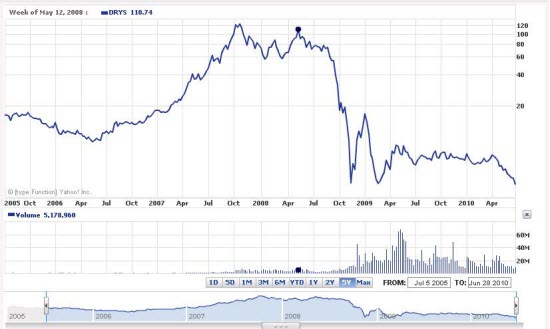 As for Goldman raising its estimates?
"Goldman Sachs doesn't make money by telling everyone what they're going to do in advance," Hackett says. "Whatever they think of CAT at this point, I'd bet they're already out of it and onto the next thing."
And what does Caterpillar itself have to say about it?
Caterpillar spokesman Jim Dugan told Minyanville that the company doesn't comment on upgrades or downgrades.
"Caterpillar puts out a detailed report every quarter and we prefer to let the numbers speak for themselves. Others can interpret those figures however they like."