The Five Best Plays in the Next Big Mispriced Asset Class: Water

Justin Rohrlich October 12, 2010 12:30 PM|



One money manager says water in the Western United States will soon be liquid gold.
According to money manager Shawn Hackett, founder and CEO of Hackett Financial Advisors, a firm with a special focus on agricultural commodities, there currently exists a once-in-a-lifetime opportunity to buy into the next big mispriced asset class:
Water in the Western United States.
"Anyone not hear about peak oil yet," he asks. "Anyone not hear about food running out yet? Not that there isn't any more room left there, but the stories have already been told and have already been reflected in stock prices."
There's a "tremendous story in the water shortages out west that's not yet reflected in stocks," he says. "When the market re-prices this, you'll never get another chance to buy them at this kind of a level, ever."
Hackett points to New Mexico as an example of what he believes is a template for what's to come out west.
"In 1995, water rights in New Mexico were going for about $1000 per acre/foot," he says. "Today they're going $18,000 per acre/foot."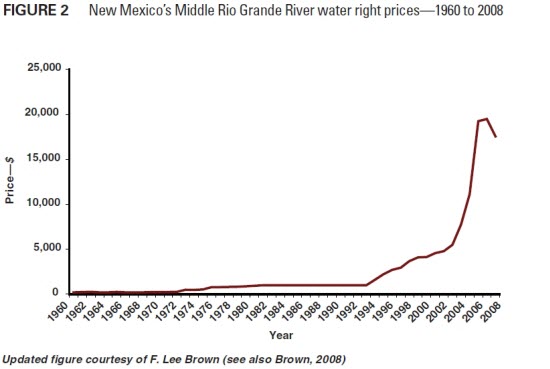 (additional credit: Steve Maxwell and American Water Works Association)
There are five stocks Hackett believes are now uniquely positioned to benefit:
1. JG Boswell (BWEL)
For only the second time in history, cotton recently broke $1/pound. In a client letter, Hackett pointed out that "JG Boswell grows the highest quality "Pima" cotton that tends to fetch a huge premium over standard cotton fiber. Prices for Pima cotton have been around $1.50/pound recently. The only other entity that is allowed to print money other than the Federal Reserve Bank is JG Boswell with cotton prices at these levels. They are going to generate the largest profit in the corporation's history. They also grow irrigated wheat, alfalfa, and processed tomatoes, amongst many other crops of which prices have also skyrocketed as the secular bull market in agricultural prices has reasserted itself over the last few months."
But, beyond that, "Boswell owns 200,000 prime farm acres in California and Australia where an abundant assortment of water rights is owned well in excess of their farming needs. One day this excess water supply will be a boom to the company as California and Australia are running out of water and will need to eventually tap alternative sources to feed domestic needs. Remember, the company owns the water rights to one of the largest aquifers in the country in the Tulare basin. The company uses 400,000 acre/foot of water a year for their farming operations and it is estimated, by looking at historical documents for these rights, up to 1 million acre/foot of water is available to the company. This 600,000 acre foot of available excess water on an annual basis one day will provide a treasure chest of recurring cash flow that will far exceed the company's current valuation."
So what is JG Boswell worth?
Earnings value of Agricultural operations = $885 million
Conservative Farmland value = $1 billion
Excess water rights value = $3 billion
Agricultural asset value = $400 million
Total conservative value of company = $5.285 billion
Conservative value per share = $5360/share
Aggressive Value per share = $9500/share
Current price = $650/share
2. Limoneira (LMNR)
"It is my view that, in a depressed investor environment for real estate stocks, that the company's total residential real estate value plus its farmland value is around $250 million. The agricultural operations in my view, based upon historical average earnings, are worth $40 million," Hackett notes. "My estimate is that the company could have up to 100,000 acre/foot worth of water rights that would be available for monetization. Using the $5000 acre/foot of water, discussed under JG Boswell, yields a water rights value of $500 million."
The total market value of Limoneira's assets looks like this:
Agricultural operations = $40 million
Residential real estate and farmland = $250 million
Water rights = $250 million (a conservative measure which cuts the actual value discussed above in half)
Conservative Total value = $540 million
Conservative value per share = $48.20/share
Aggressive value per share = $70/share
Current price = $20/share
In an interview with Minyanville, Hackett said:
Right now, it's sort of like, buy the company, get the water rights for free," he explained. "One day, this is going to change -- people will realize how valuable these stocks are and they'll go parabolic. I can't tell you about the timing, politics, and so forth. But it has to happen sooner rather than later. To own the right to all that water in perpetuity, is what's worth so much. How are the utilities going to get the money to upgrade their dilapidated infrastructures? They need to charge more for water. How are they going to get people to conserve? Charge more for water. States will have no choice but to allow utilities to substantially increase the rates they charge for water, who will go out to private companies for supply.
The utilities Hackett likes are:
3. California Water Service Group (CWT)
4. SJW Corp. (SJW)
5. American States Water (AWR)
Water. It may be colorless and odorless, but in Shawn Hackett's view, it tastes pretty sweet.