Forget Gold, Cotton's Up 60%

Justin Rohrlich October 28, 2010 8:30 AM|



A 60% price rise for the fibre could mean trouble for retailers however.
Forget about hard assets like gold and silver: the serious money this year in the trading pits, say market pros, has been made in soft white balls.
A lot of investors, thinking about which commodity has enjoyed the sharpest run to the upside this year, might guess precious metals. In fact, it's been cotton, which just yesterday touched a new high.
Cotton retreated on Wednesday but, year-to-date, the price is still up a whopping 62%. Gold is up 16%. The SPDR S&P 500 ETF (SPY), which includes holdings like Exxon Mobil (XOM), Apple (AAPL), Microsoft (MSFT), IBM (IBM), and Bank of America (BAC), is up 5.5%.
Jon Markman of Markman Capital Insight provides us with the following nice visual, which shows the price of that fluffy fiber as tracked by the exchange traded note iPath Cotton (BAL), contrasted with gold and the S&P 500 this year.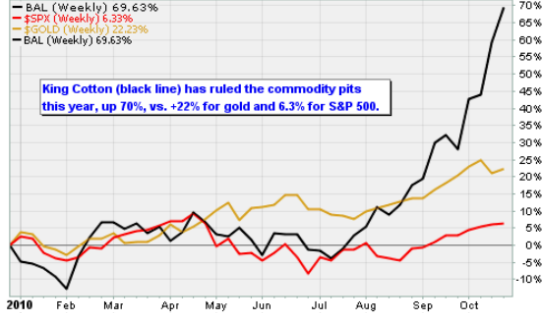 Analysts say cotton prices have moved dramatically higher due to a series of headline-making storms around the world which, coupled with still strong demand from China, sparked worries about a shortfall. Aside from fundamental factors, say traders, the surge has also been supported by fund buying.
The climbing price of cotton is of course part of a more general surge in commodities, due to global demand and a weaker dollar. Hard assets like gold and silver have moved sharply higher as have soft commodities like coffee and orange juice. This in turn has renewed concerns about what these rising prices will mean for an American consumer, already suffering with a lousy labor market and depressed housing market.
This year, say analysts, there have been a series of weather-related storms in big cotton producing regions: floods in Pakistan, rains in China, dry weather in Russia and recent hail storms in Texas. "There have been an unprecedented series of weather-related events all coming together in one crop cycle," says Shawn Hackett of Hackett Financial Advisors. "It set the market off."
While some 80 countries from around the globe produce cotton, the United States, China, and India together provide two-thirds of the world's cotton.
In the end, the amount of cotton lost from these storms wasn't actually all that significant, but the problem was that there were already such low stockpiles, says Judith Ganes-Chase of J. Ganes Consulting, an independent commodities research company.
"When you add it all up, it wasn't as if there was some major catastrophe," says Ganes-Chase. "Significant sums of cotton weren't lost. But stocks were exceedingly low to start with, and demand remained strong. So every bale counted."
According to the US Department of Agriculture, global production by cotton farmers isn't keeping up with demand, which is grinding down inventories. World cotton consumption in 2010-2011 is forecast at 120.8 million bales (a bale equals 480 pounds), rebounding 2.6% from last year. Global inventories are forecast at 44.7 million bales, down 5% from a year ago and the fourth consecutive year decline.
Demand from China remains particularly strong right now: so far this season, a full 30% of the 11 million bales of cotton sold by American farmers have gone just to China, says the USDA.
As for investment implications, the spike in cotton prices could also spell tough news for clothing manufacturers and retailers, says Hackett, as these companies suffer a mean choice ahead: take the pain of higher cotton costs or try and pass them along to shoppers. Looking ahead, he expects some these companies to have their profits pinched.
"Trying to raise clothing prices in a challenging economic environment simply won't work," he says. "Buying clothes is elective. I don't have to buy a new outfit today. If you overprice the clothes, nobody buys it."