A Historic Shorting Opportunity in Cotton May Be Near

Justin Rohrlich November 9, 2010 12:30 PM|



If a commodity is up nearly four times more than gold, would that indicate a good sign to start betting against the market?
Recently, MV's Josh Lipton wrote that, year-to-date, gold is up 16%. The SPDR S&P 500 ETF (SPY), which includes holdings like Exxon Mobil (XOM), Apple (AAPL), Microsoft (MSFT), IBM (IBM), and Bank of America (BAC), is up 5.5%. According to Bloomberg, oil is up 3.8% YTD. Copper, 13.9%.
He also pointed out that cotton is up 62%.
Jon Markman of Markman Capital Insight provided a chart that compared the price of cotton as tracked by the exchange traded note iPath Cotton (BAL), contrasted with gold and the S&P 500 this year.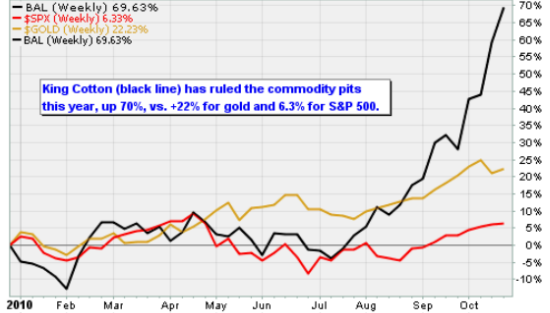 Shawn Hackett, founder and president of Hackett Financial Advisors, a money-management firm with a focus on agricultural commodities, tells Minyanville that cotton's spike began with the floods in Pakistan, coupled with rising demand from China.
But, contrary to what numerous breathless reports warning of $85 undershirts and $50 socks, Hackett believes cotton's stratospheric rise is due for a fall. In a letter to clients sent out yesterday, Hackett wrote:
Cotton prices have had a tendency to put its bull market peaks in right near the 30 year cycle peaks in overall commodities. So with the expectation that a major 30 cycle peak is near at hand in overall commodities over the next 6 months, cotton could be in the process of setting at least a decade high as we speak in the very near future.
The average increase during the 3 greatest bull markets in the history of cotton since 1900 was a 4.1-fold rise. The current rise in cotton has reached a 4.1 fold increase since the bull market began in November of 2008 putting cotton in lock step with historical precedent. Understand that this bull market has seen the greatest velocity increase over the shortest period time over the last 100 years. This puts the cotton market into a very rare psychological condition that is usually associated with a crash ending. The average decline in cotton over the last 3 greatest bull market moves has been 50%. Given the extreme nature of the current bull market, I would expect the decline to exceed the normal decline.

The reason?

End users of cotton/merchants are buying in a panic parabolic fashion that is a classic late stage warning sign that a bull market is about to come apart at the seams," Hackett wrote. "Once the commercials finish their panic buying spree, a buyers strike will likely emerge leaving cotton in an air pocket of no support for many days on end. This is what causes the crash back down as greedy producers try to capture what is left of the riches they thought they had while rational commercials have no interest at buying at irrationally higher levels. Also during such times it is typical for cash contracts to be cancelled and renegotiated at lower levels creating even further selling that exacerbates the selling panic. That day is coming in cotton.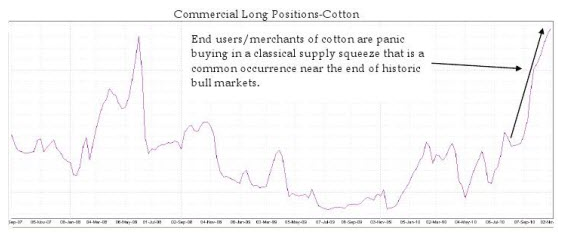 "These high cotton prices are telling every cotton farmer in the world, 'Go plant more, go plant more,'" Hackett tells Minyanville. "In the past, no farmer on the planet could make any money growing cotton, but now cotton farmers are going to be driving Maseratis."
Cotton farmers do seem to be acting a bit exuberant in the face of record prices for their crops.
The Oklahoman is running a story today that begins:
"Harvest time and the livin's easy for some Oklahoma farmers who're in tall cotton. Hollis, OK grower Kelly Horton said, "We'll make more money than we have in a long time."
This is exactly the mindset to which Hackett is pointing.
"You'll see this sort of production response, and farmers will plant a tremendous amount of cotton, likely leading to overproduction and a market crash," he says.
The Houston Chronicle makes the same case this morning, noting that "the cotton rush may not last long, particularly if more producers around the world start growing more cotton in response to the price increases."
Hackett explains, "You'll see supply going up, with demand having fallen off from higher retail prices, right before the market drops. We'll recognize the first signs of demand destruction -- retailers will tell you sales are down, more cotton-poly blends will start hitting stores… Mid-February into summer could be a fairly ugly period for cotton."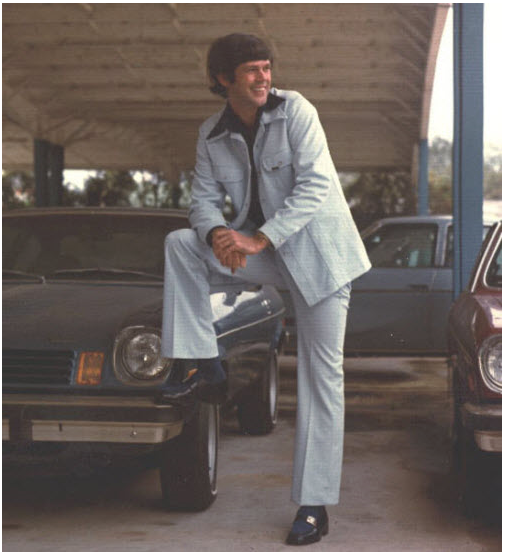 One of the first signs of cotton demand destruction?
Hackett suggests avoiding the clothing retail sector and apparel producers at the moment.
"This is the biggest one-way trade we've seen in cotton in 100 years," he says. "It's a historic move, a historic shorting opportunity. The greatest shorts are when everyone's bullish -- and we're getting very, very close to that moment."