Why the Kindle Can't Kill the Paper Industry

Justin Rohrlich November 10, 2010 2:45PM|



No one seems to remember that paper is used for things other than books.
The paper industry is terrified.
With Amazon's (AMZN) Kindle, Barnes & Noble's (BKS) Nook, and Apple's (AAPL) iPad swiftly encroaching on the traditional book's territory, Domtar Corporation (UFS) -- North America's largest single-sheet paper manufacturer -- has taken to running a series of rather defensive print ads.
Domtar's "Paper Because" campaign is appearing in The Wall Street Journal, The New York Times, The Globe & Mail, Fast Company, Audubon, and National Geographic, amongst others.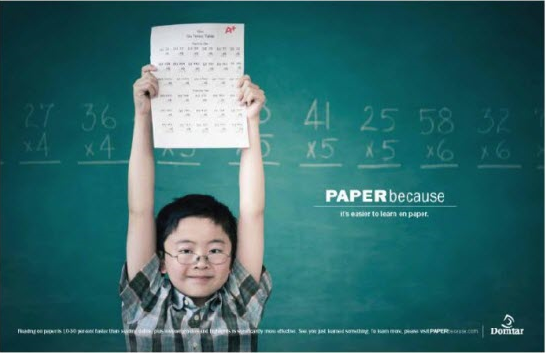 The gist is that paper offers benefits that electronic devices don't. And it does. Just as e-readers offer benefits that paper doesn't. But that's not a reason why one format will ultimately displace the other -- even if people like Nicholas Negroponte, founder of the One Laptop Per Child project, believes that physical books will be dead "in five years."
"There are times when no substitute for paper will suffice -- it is how great ideas begin, how the world learns, how important news gets shared and how people meaningfully connect with each other," John D. Williams, Domtar's president and CEO said in a statement.
Williams is absolutely right.
Money manager Shawn Hackett, founder and president of Hackett Financial Advisors, a Florida-based firm with a focus on agricultural commodities, tells Minyanville that paper itself is never going away -- regardless of how advanced technology
ultimately gets.
"Paper companies have been taking a hit, absolutely," he says. "There's nothing they can really do to stop it. But paper's used for a lot of things besides books and newspapers -- toilet tissue, cardboard containers, product packaging, and so forth. I haven't read a physical newspaper in five years. But that's only a tiny percentage of paper's overall uses."
Indeed, as e-readers grow in popularity, paper companies will continue to serve existing needs that will always exist, as well as using innovative thinking to enter new markets.
A passage from Domtar's latest 10Q shows some of this thinking in practice. It reads:
"The U.S. Internal Revenue Code of 1986, as amended (the "Code") permitted a refundable excise tax credit, until the end of 2009, for the production and use of alternative bio fuel mixtures derived from biomass. We submitted an application with the IRS to be registered as an alternative fuel mixer and received notification that our registration had been accepted in March 2009. We began producing and consuming alternative fuel mixtures in February 2009 at our eligible mills."
So, a company in a "dying" sector -- paper -- managed to reinvent part of its business as an energy producer. And it will likely continue to innovate because it must -- as the same 10Q reports:
"Our pulp trade shipments decreased by 34,000 metric tons, or 8%, in the third quarter of 2010 compared to the third quarter of 2009. The decrease in pulp shipments resulted mostly from a decrease in market demand."
However, this decrease is not due to a surge in Kindle sales. It's due, largely, to the slow global economic recovery, which begets high unemployment, which, in turn, leads to lower sales of office paper.
"The economic recovery has proven to be uncertain and employment is widely predicted to remain slow through the months ahead. Therefore our overall outlook for volumes remains cautious," Domtar says.
Interestingly enough, lower office paper usage has companies like Kimberly-Clark (KMB), manufacturer of Cottonelle, particularly concerned.
According to a report in Chemical and Engineering News, used white paper is "increasingly hard to find and much more costly thanks to growth in electronic communications."
"It certainly is a challenge," Jeff Landin, president of the Wisconsin Paper Council, told Minyanville last spring. "If you can't get enough recyclable material, you need more virgin fiber. Everyone wants sustainability, but less paper utilization in the office and at home makes things difficult for paper producers."
On the other hand, Dr. Alan Button, president of Buttonwood Consulting, a former executive at Georgia Pacific, and vice chairman of the Paper Industry Hall of Fame, said the issue isn't quite as black and white as some have made it out to be.
"While the quantity of office paper being used is going down with the rise in electronic communication, there's a disconnect no one's talking about," Button noted. "Most recycled fiber from office paper is not useful for making premium consumer toilet tissue; to get to the level of softness consumers demand, it needs to be made from virgin fiber."
Button maintained that, "recycled office paper just really doesn't make high-quality toilet paper."
In the same way Domtar is adapting, so too, will Kimberly-Clark.
And book lovers need not fear the demise of a medium that has been with us for millennia.
Lest we forget, Cunard (CCL) still sails across the Atlantic, even though American Airlines (AMR) can deliver travelers to London in a fraction of the time. Trains co-exist peacefully alongside automobiles. And Diet Coke didn't kill regular Coca-Cola (KO), even though it has 139 fewer calories and 100% less sugar (or high-fructose corn syrup, for the technical-minded nutritionists among us).
Besides, there's a growing amount of anecdotal evidence that shows just how attached people are to traditional reading material: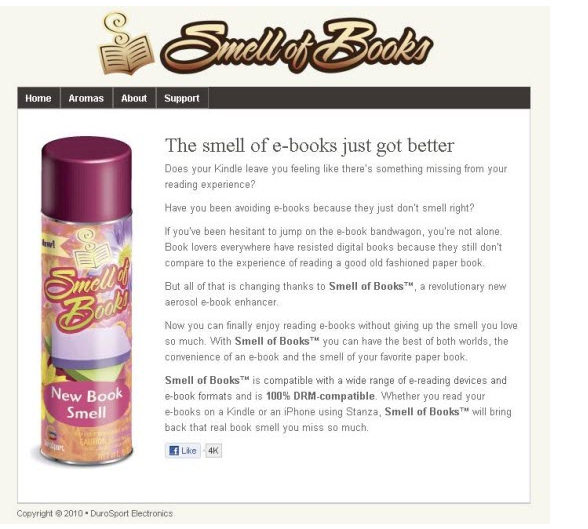 Feel better?