Pilgrim's Pride: Will 2012 Be the Year of the Chicken?

Justin Rohrlich July 6, 2011 12:00PM



After a major restructuring, one money manager believes the country's second-largest poultry producer is ready to run.

As investors got spooked by the equity markets, many sought safety in commodities.
The tremendous run-ups in everything from corn to gold has money manager Shawn Hackett, founder and CEO of Hackett Financial Advisors, a Boynton Beach, Florida firm with a specific focus on commodities, focused on "one of the few undervalued 'anythings' in the commodity arena right now – chicken."
"I've been pretty bearish on commodities since the beginning of the year, which was the right place to be, as most have lost 15%-30% of their value," Hackett tells Minyanville. "We saw a crash in the grains just last week; corn limit down two days in a row."
But, one of the commodities that Hackett says "clearly never participated at all" in the most recent boom was poultry.
"Generally speaking, those that don't perform one year tend to be the leaders the following year," Hackett says. "In 2010, corn, wheat, cotton were the top performers. In 2011, they've been the worst. So, from a very simplistic technical point of view, that bodes well for 2012 poultry prices. Beyond that, the industry has suffered from record high feed prices, record losses, sell recommendations from just about every analyst -- typical of a bottom. Right now, we're seeing feed prices coming down quite dramatically and the conditions seem right for a very buoyant chicken market moving forward."
Of the major names in chicken, Hackett prefers Pilgrim's Pride (PPC) to outfits like Tyson Foods (TSN), and Sanderson Farms (SAFM).
"Pilgrim's Pride is my top pick -- it's by far the cheapest of the three, they've got long-standing relationships with Walmart (WMT), Costco (COST), Wendy's (WEN), etc., and they're a much cleaner, much stronger operation since they emerged from bankruptcy," he explains.
Hackett says that when Brazilian meat processing giant JBS took a post-bankruptcy controlling interest in Pilgrim's Pride, they brought "much greater financing flexibility with them" as well as operational know-how that should be of tremendous help.
The company filed for bankruptcy in 2008, struggling under the weight of high feed costs, low chicken prices and a heavy debt load before JBS stepped in and Pilgrim's Pride underwent a top-to-bottom revamp.
"We were not just reshuffling the balance sheet. We actually restructured the company," William Snyder, a managing partner at turnaround firm CRG Partners, who acted as chief restructuring officer at Pilgrim's Pride, told Reuters.
"Pilgrim's Pride is much better now in terms of feed hedging, which is directly attributable to JBS," Hackett says. "Plus, with the operating leverage the company has now, they'll be able to start dramatically paying down their debt load."
Hackett believes Pilgrim's Pride stock "should make a big move before the summer's out."
"Look where PPC has been over the years, the stock's been as high as $40 and as low as $4," Hackett says. "That $4 level may have been the bottom; we saw a brief pullback at $5, so we may have already put in the hard low."
Interestingly, one of the hurdles standing in Pilgrim's Pride's way was a shift from hand-deboning to an automated system, which paradoxically, was far less efficient than performing the task manually.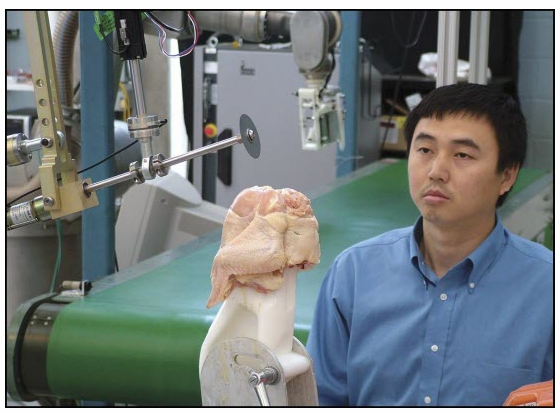 After switching back to hand-deboning, Pilgrim's Pride "plans to realize $400 million in savings in 2011, double the amount it projected in the prior quarter," according to president and CEO Bill Lovette.
As Gary McMurray, principal research engineer and chief of the Food Processing Technology Division at the Food Processing Technology Division of Atlanta's Georgia Tech Research Institute, explains, "each one-percent loss in yield represents $2 to $3 million for a plant."
There may be hope for automated deboning yet -- McMurray is developing "intelligent deboning" equipment "focused on making the initial incision, cutting from the clavicle to the shoulder joint, through the shoulder joint and down along the scapula," which is "important to maximizing yield."
However, whether or not your next breast is cut by man or machine, Hackett maintains that "the old cancer is out of Pilgrim's Pride now."
"We should see the fruits of the JBS influence soon, with or without favorable prices," Hackett says. "Pilgrim's Pride could be a massive mover over the next five years -- JBS is making the company right again."
We should see the fruits of the JBS influence in 2012 for sure, with or without favorable prices," he says. "They're making the company right again."