Milk Prices to Spike in Year of the Dragon?

Justin Rohrlich March 13, 2012 1:50 PM



In China, only 100% foreign-owned formula brands are fully trusted.

Shawn Hackett, a Boynton Beach, Florida-based money manager with a special focus on agricultural commodities, is bullish on milk. And the year of the dragon is why.
As he points out in a letter to investors:
| | |
| --- | --- |
| | Officials are bracing for a dragon baby boom not only in China and Taiwan, but in other Asian countries and territories that observe the New Year festival, including Japan, South Korea, Vietnam, Hong Kong and Macau….All these babies are going to need a lot baby formula in their first year of life. This should offer a significant spike in demand coming out of Asia for WMP (Whole Milk Powder) and Dry Whey powder. |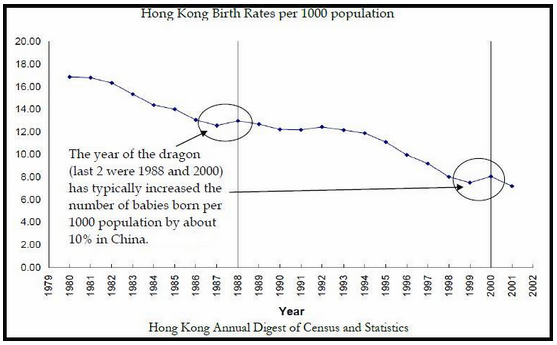 According to the website of Kunming, China, "As all the recent baby booms, which happened in the last Year of the Dragon in 2000, the auspicious year of the "Golden Pig" in 2007 and in 2008 -- the year China hosted the Olympics, were followed by shortages in resources ranging from available delivery room beds to openings at kindergartens and primary schools."
That Chen Hsin-Fu, president of the Taiwanese Society for Reproductive Medicine in Taipei and a doctor at National Taiwan University Hospital -- which specializes in fertility treatments -- told the Wall Street Journal that he and his colleagues have seen a "30% to 50% increase since May from patients all over Asia," only seems to confirm the certainty of a coming "dragon boom."
"It doesn't matter if you have an easy time or a hard time [getting pregnant], when it comes the dragon year they all want to have one," explained Dr. Lin Tseng-kai, head of the Artificial Reproductive Technology Center at Hsinchu Cathay General Hospital in Hsinchu, Taiwan.
"When milk prices go up, you may not eat as much cheese as before, but you're not going to stop feeding your kid," Hackett tells me. January 23 started the year of the dragon and it continues until February of 2013. And he expects milk demand to increase by 609,000 metric tons.
He writes:
Remember, the majority of this type of milk product (WMP and Dry Whey for baby formula) is available and bought from the US and New Zealand only. If we look at the expected combined increases in milk production for both countries in 2012 the total comes to 1.6 million metric tons. This is a front end loaded production cycle so the back half of 2012 will produce a much smaller percentage of total milk production increases then the first half. The increase in baby formula demand will soak up close to 40% of this increased production that will become increasingly unavailable as we move into 2013.

The way I see it, the world will work through the milk glut in the first half of 2012 and then US production starts to decelerate and eventually go flat by year end. This will be happening as demand from China begins to soar from the year of the dragon baby effect and you have a perfect storm for a massive bull market in milk starting in the back half of 2012 and really taking off in 2013. Of course should New Zealand experience weather problems in the back half of 2012 and they see also see reduced production then "Katie bar the door" to the upside.
But, not only do the US and New Zealand produce the majority of the WMP and Dry Whey out there, domestic food safety scandals have also put many Chinese consumers off local goods.
"The Chinese will buy from names they trust," says Hackett. And those names, notes China's state-run Global Times, are those familiar to US investors -- especially the ones germane to Hackett's thesis.
To wit (emphasis mine):
In China, only 100 percent foreign-owned formula brands are fully trusted.

This consumer mentality, as reflected by the online complaints, is not a product of Chinese groveling before everything foreign, as some critics claim, but one of deep, knee-jerk mistrust of homegrown dairy brands, which have yet to recover from a string of past abuses, the most infamous being the melamine scandal in 2008 that killed six infants and sickened tens of thousands of others.

As things stand, the Chinese public will continue to favor foreign dairy brands over indigenous ones for a long time to come. Therefore, imported formula brands whether "authentic" or not, will win an increasing market share as long as they are more reliable and can establish their reputation through word-of-mouth marketing in an age of online shopping.

The statistics back this. The domestic market share of imported formula has been consistently growing for several years, and it reached more than 50 percent last year.

Some consumers have quipped that although it pains them to pay more for foreign-made formula, the pain at least won't come back to haunt them in the future, whereas the opposite is true of homegrown formula brands.
In fact, China Market Research Group and CNBC contributor founder Shaun Rein, noted similar emotions surrounding even the most pedestrian of consumer foodstuffs, this past August:
I was interviewing Emily, a 24-year-old Shanghai girl about her dining habits. As we talked, she kept messaging her friends on her Apple (AAPL) iPhone 4 when she said, "I love Kentucky Fried Chicken. I go there all the time because the food there is healthy." Her response initially took me by surprise: since when is food from Kentucky Fried Chicken considered healthy?

As I pressed Emily more, she responded, "I know fried food is not healthy in general, but I trust that KFC will use real cooking oil. They won't recycle oil that they salvage from sewers as too many food street vendors do, they won't put cardboard in their batter as some dumpling restaurants do, and they won't use expired or tainted ingredients."

My firm interviewed thousands more Chinese consumers in eight cities about their dining habits, we found that Emily's response was not unusual. Many Chinese consumers consider Western fast food brands like Yum Brands (YUM), McDonald's (MCD), and even Dunkin' Donuts (DNKN), healthy. They all know a healthy food diet should not have too much oil and sugar, but they also trust foreign brands won't cut corners in the production process. They fear tainted ingredients more than fat.
Whereas rising milk prices should be a boon to producers, Hackett warns that "when milk prices go up, processors get squeezed. Dean Foods (DF), Kraft (KFT), they're usually not able to pass on those expenses one-for-one on the sell side—especially now, given the overleveraged state of the US economy."
So, how to play it?
Hackett says the "two top baby formula sellers to China are Mead Johnson (MJN), with 11.7% share and Danone (DANOY.PK) at 9.8% share."
For commodities traders, Hackett writes:
Bull markets in milk almost always start in the deferred contracts and work their way back as the scarcity trade builds. This was exactly what happened in late 2010. My preferred Milk contract to buy on any weakness heading into late spring would be the October 2012 contract. Once the bull market starts in the deferred contracts there will be a fantastic opportunity to bull futures spread early summer 2012 milk against late fall 2012 milk when the spreads reach typical maximum elasticity.

Bottom line: Milk should be one of the top agricultural commodities to buy in the latter part of the spring 2012. Longer term oriented commodity investors can buy the October 2012 contract now and average in additional contracts on any weakness through June 2012. Shorter term investors can wait for more technical price confirmation as well as a money flow commercial buy signal. My forecast is that milk could easily make new all time record highs this time around and could easily hit $30/hwt if New Zealand were to have weather problems.
Of course, if counterfeit dairy products are really what you're after, they're still readily available. In January, fake eggs -- made from industrial chemicals and food additives -- were discovered in Shandong province.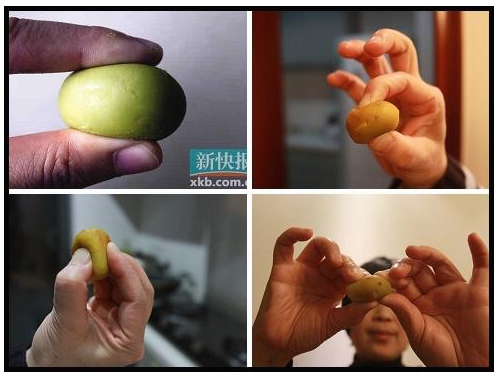 The State Council Information Office's China.org.cn reported that a "worker can make 300 fake eggs per hour in a small room, and each kilogram sells for 1.2 yuan (19 US cents)," and quoted experts who said "long-term consumption of fake eggs can lead to memory loss or dementia."
Might be a trade to consider when babies start eating omelets?