China: Will Tainted Baby Formula Spur Cultural Shift?

Justin Rohrlich August 16, 2013 2:16 PM



Given recent troubles, a decline in demand would only compound existing price control problems.

In China, the Year of the Dragon saw a corresponding "Dragon Baby Boom." Beijing's birth rate was the highest since 2007, Hong Kong births rose 6.6% year-over-year, and Taiwan births hit a ten-year record. However, feeding Chinese infants has recently been a primarily foreign affair. According to a 2012 editorial in China's state-run Global Times, "only 100% foreign-owned formula brands are fully trusted" by the country's parents.
This bias, said Global Times, was "not a product of Chinese groveling before everything foreign, as some critics claim," but rather, a "deep, knee-jerk mistrust of homegrown dairy brands, which have yet to recover from a string of past abuses, the most infamous being the melamine scandal in 2008 that killed six infants and sickened tens of thousands of others."
The imported formula market in China grew roughly ninefold between 2002 and 2012, and is expected to hit $13 billion by 2015, per UNICEF projections. But what will happen now that New Zealand dairy producer Fonterra (NZE:FCG) has recalled tons of formula from Chinese shelves amid fears of botulism?
"I think the Chinese are going to start questioning if New Zealand dairy is reliable," Shawn Hackett, a Boynton Beach, Florida, money manager with a focus on agricultural commodities, tells Minyanville. "New Zealand's production has grown so much over the past five to eight years, and they've really grown too fast. Their whole MO was 'maximize growth, maximize growth, maximize growth,' but now they're feeling the pain of not taking care of the infrastructure behind it."
Hackett explains that there was also a "big baby formula price fixing scandal in China earlier this month," which involved Fonterra and five other companies: Abbott Labs (NYSE:ABT), Mead Johnson (NYSE:MJN), Danone (OTCMKTS:DANOY), Biostime (OTCMKTS:BTSDF), and Friesland. The resulting "20-30% decline in retail prices has hurt margins. Not only is there the problem of less demand, but because prices have been forced down, it's a double-whammy for companies."
Going forward, people "will buy their products," he continues, "but there's going to be a hesitancy there. At the end of the day, the only way to have 100% safe products is more natural baby feeding."
China, however, has one of the lowest breastfeeding rates in the world: 28% (16% in urban areas), compared to a worldwide average of about 40%. So, the Chinese government has embarked on a massive campaign to convince new mothers to breastfeed.
In May, UNICEF and the Chinese Center for Disease Control and Prevention launched the "10 Square Meters of Love" campaign, which calls for breastfeeding rooms to be provided in public buildings and offices throughout the country.
The city of Zhengzhou is rolling out "lactation rooms" on public buses to provide semi-private areas for nursing.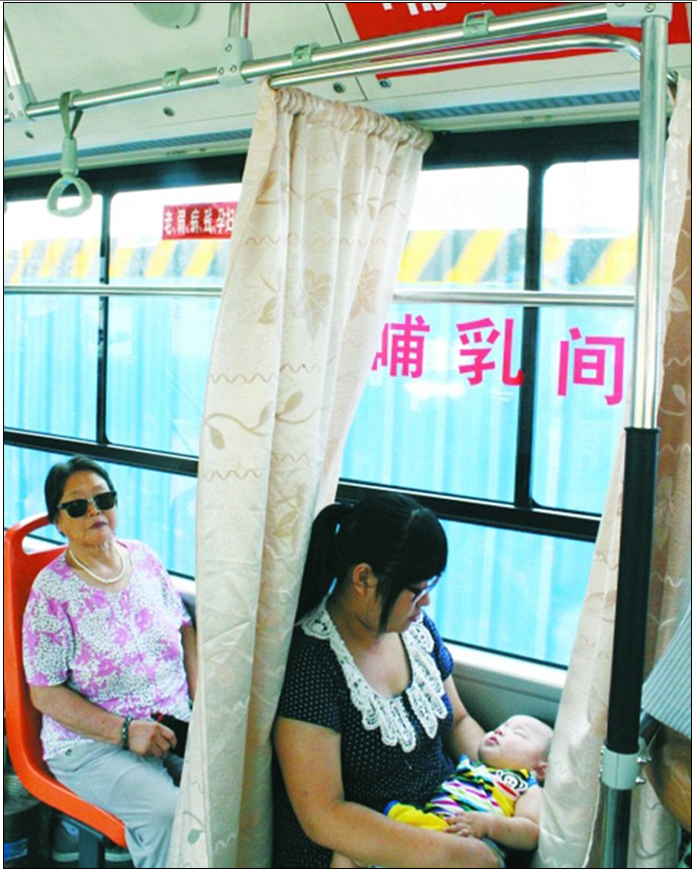 And "breast masseurs" are even beginning to appear.
Oddly, a report from Zhou Fang of the official Xinhua news agency claims that high-ranking government officials appear to be taking their own advice a bit too literally: They've begun engaging in breast milk orgies.
Per Taiwan's Want China Times, "the milk-drinking parties were a novelty sparked by recent revelations that wealthy businessmen in Shenzhen have been hiring wet nurses for their own use because they believe in the health benefits of human breast milk. Corrupt officials are often bribed with high quality feasts, and the milk orgies are merely an extension of this practice."