Top 2010 forecaster eyes $4/lb coffee by end-2011
* Hackett sees arabica at $4/lb by end-2011
* Tight supplies seen driving price increase -Hackett
* Hackett pegs robusta up at $3,300/tonne by year end

NEW YORK | Jan 7, 2011 1:45pm EDT
By Marcy Nicholson
NEW YORK, Jan 7 (Reuters) - Tight supplies of washed arabica coffee should push prices up to a steep $4 a lb by the end of 2011 and robusta beans will follow in tandem, said the analyst who came closest to predicting last year's 77 percent rally in a Reuters poll.
Shawn Hackett, president of Hackett Financial Advisors, Inc. in Florida, seemed to be aiming out of the ball park a year ago when he forecast the spot arabica futures contract <KCc1> trading on ICE would reach $2.50 a lb by the end of 2010. His projection, the highest of the 21 analysts who responded to the biannual survey, was the closest to reality.
After a fund-fueled rally exacerbated by tight supplies pushed the market to a steep rally in the last half of 2010, the market finished the year at $2.4050 per lb, after hitting a 13-1/2-year high at $2.4225 earlier in December.
The median estimate in the January poll was $1.39/lb. As the only analyst to forecast a year-end price above $2, Hackett faced phone calls and nasty emails following the poll's release, when people told him he doesn't understand the business and called him a "scheister".
"That's the nature of being a contrarian ... you have to be thinking very differently from the crowd and the crowd is usually wrong," Hackett said, in a telephone interview. Hackett's steep call was based purely on fundamentals, looking at the huge disparity between cash differentials and the futures price at that time, as top washed-arabica grower
Colombia entered its second year of significantly smaller crops.
"My thesis was that scarcity would eventually play itself out in the futures market, and it did," Hackett said.
"We essentially have cleaned out producer stocks. Demand can only be satisfied now by what is produced." Colombia is now in its third year of lower production and
Hackett forecasts arabica futures are in for a 65 percent ride higher this year. Liffe robusta futures <LRCc2> will follow to reach $3,300per tonne by the end of 2011, from $2,097 at end-2010.
"There's no reason it (robusta) shouldn't follow because there's not going to be any supply to stop it," Hackett said, adding he does not expect the wide spread between the two markets to increase.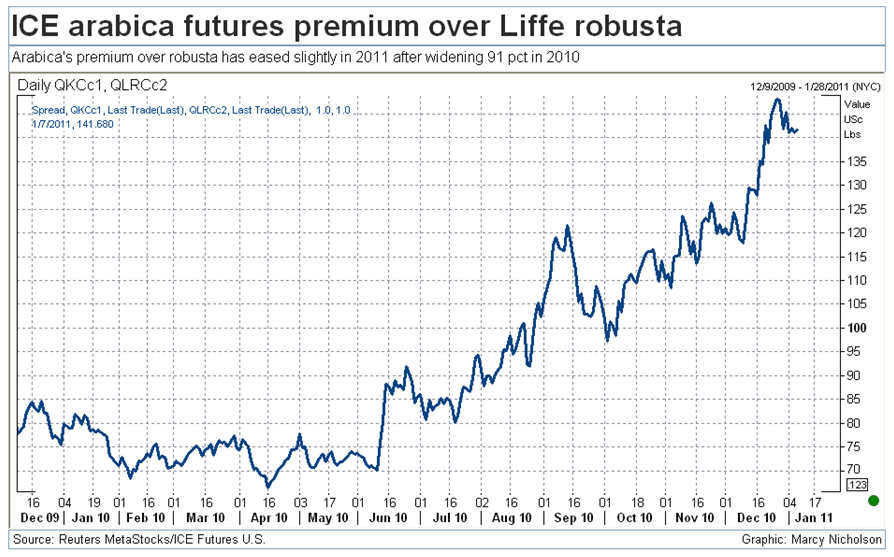 Technically, another indicator that the arabica market's bull move is not over is that it has not yet seen a spike trade, an extremely fast and sharp move up that ends the bull move in coffee, he said.
The spot arabica contract last saw such a move in 1997 when it shot up nearly 130 percent to $3.18 per tonne over four months, It then fell 50 percent two months later and continued lower through to 2001. The 2010 sustained rally was slower and more orderly. (Graphic: http://link.reuters.com/ket35r )
SHORT-TERM SETBACK?
Hackett cautioned that the commodity complex will likely see a setback in the first quarter of 2011 that could temporarily take coffee down with it. This would provide a good secondary opportunity to buy coffee with Hackett's perspective that commodity investments should be viewed on longer-term horizons.
"You should have a pretty good view of where things should be over a 12 to 18 month horizon, understanding the next three months are completely unpredictable and no one can forecast three months with any degree of accuracy," Hackett said.
He admitted his three-month forecasts have often been "awful" while his longer-term forecasts have been "extremely good."
"If you invest in commodities in a similar fashion that you do in stocks, you'll do very well. Everyone keeps wanting to hyper-trade their accounts and hyper-trade markets, and what winds up happening is they miss the big move," he said.
Hackett was a stock broker with Princeton Securities in New Jersey from 1990 to 2002. He shifted to agricultural commodities with Roach Ag Marketing in Florida for five years, where he worked as a commodity broker. In 2007 he opened his own commodity brokerage advisory firm, which specializes in agricultural commodities and clears through R.J. O'Brien & Associates.
Currently, about 2,000 people subscribe to his reports.

(Reporting by Marcy Nicholson; Editing by David Gregorio)